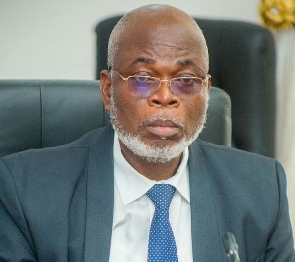 The Public Accounts Committee (PAC) of Parliament has expressed worry over the huge sums of money government spends annually on rent for the country's missions abroad.
The PAC's concerns come on the back of an Auditor-General's report on the Public Accounts of Ghana: Ministries, Departments and other Agencies for the year ended December 31, 2020 – which showed that the state spent US$2.8million and €1.8million (a combined total of GH¢58.7million at today's exchange market value) on rental accommodation for 21 missions from August 2018 to October 2019.

The Committee, backing the report's recommendations, noted that the huge rent payments are unsustainable and the Ministry of Foreign Affairs should rather expedite steps to acquire these properties permanently, where possible. This, it noted, will save the state from having to fork-out millions every year to pay rent for its foreign missions.

The report showed that in Abu Dhabi, for instance, it cost government €861,703.69 as rent for nine home-based staff from February 2018 to September 2019; for Addis Ababa – Ethiopia's capital, US$278,586 was spent from October 2018 to October 2019; and €402,178 in Ankara, Turkey, for the same period among high rent charges for missions including other countries.

Reacting to the issue before the Committee, Acting Chief Director of the Ministry of Foreign Affairs, Ramses Joseph Cleland, justified that the huge sums result from some of the properties being located in prime areas of the host countries.

He further explained that the ministry is working to address the situation in the best way possible. "In respect of the missions' properties abroad and their use for purposes of Chancery, the properties are typically situated in prime areas of the host country which are comparatively expensive.
"In order to address the implications of this matter, the ministry solicited a US$50million Societé Generale loan facility through the Ministry of Finance to renovate, build and purchase properties for the ministry; and this was with the sole purpose of owning our own accommodation and reducing the cost of rent. This has considerably reduced some of the ministry's rent cost, so efforts have been made over the years."

Deputy Minister of Foreign Affairs, Kwaku Ampratwum-Sarpong, in a response to a question from the PAC on government accommodation policy, noted that even though it is difficult for foreign missions to acquire mortgages abroad, the masterplan is to acquire permanent properties for all missions – in line with the Committee's recommendations.

"The government policy is to acquire properties for all the missions – for residency, Chancery and offices. So, that is the master-plan; but the reality on the ground is that it's not easy for a foreign mission to get a mortgage in those foreign countries… it's a tough one.

"So far, we have not succeeded and we are exploring a whole range of avenues to try and raise the needed funds," the deputy-minister said.