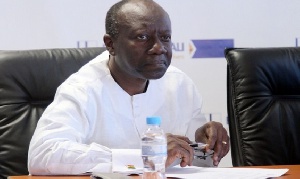 Government spent GHS177 million on the issuance of the 10-year and 7-year energy bond, the minority in parliament has said.
Former deputy finance minister and minority spokesperson on finance Cassiel Ato Forson told journalists on Thursday, 9 November that it was befuddling that the government spent GHS87 million on administrative expenses and GHS400, 000 on the printing of material for the energy bond roadshow.

In his view, there is something "fishy" about the whole deal.

"From the cost that I have that the taxpayer is paying; the state is paying the arrangers, the banks, GHc87.5 million. The state is paying legal fees of GHc700, 000; the state is paying the accountant, GHc350, 000. Surprisingly, the state is paying administrative expenses of GHc80 million. Overall the state is paying GHc177 million. I think this amount is way too much."

"This is not the first time the state is raising a bond. The last bond we raised under the Eurobond of $1 billion which translates to about GHc4.4 billion, the total cost was under 0.2 percent. Today, we are seeing a bond that we are raising for about 4 billion and the cost is about 1.77 percent.
"I think it is important that we ask questions. So the question we are asking is that we want the Ministry of Finance to provide the state with further and better particulars. We are asking for full breakdown of what constituted the administrative expenses. Printing of the road show material was GHc400, 000. We are going to haul the Minister before Parliament, to give us full breakdown to account for every cedi that has been spent so far. We think it is way too much and we smell something fishy," he added.

The energy bond was meant to raise GHS6 billion to pay the GHS10 billion legacy debts of the energy sector a total of GHS4.69 billion was realised despite a week's extension of the road show.

While the 7-year component raked in GHS2.4 billion as targeted at an interest rate of 19 percent, the 10-year bond could not meet the GHS3.6 billion target.