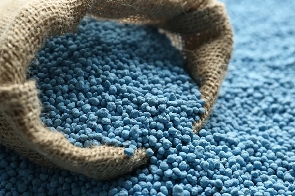 GIRSAL, through its Agriculture Stakeholder Convening and Advocacy Platform (ASCAP), has held a stakeholder validation workshop to substantiate findings from an assessment of the Fertiliser Subsidy Programme (FSP) to ascertain its effectiveness, efficiency, and sustainability.
The ASCAP initiative launched last year aims at bringing together government institutions, private sector participants (financial institutions, agribusinesses, farmer-based organisations), and development partners to collaborate on addressing issues in the agricultural and agribusinesses space.

One such vital issue is an assessment of the Fertiliser Subsidy Programme, which has been a key component of the Planting for Food and Jobs (PFJ) initiative targeted at improving crop productivity, ensuring food security, and creating employment opportunities in Ghana. Over a five-year period (2017 to 2021), the government spent about GH¢2.7billion mainly for covering subsidies on selected fertilizers and seeds supplied to smallholder farmers. Eligible farmers were provided a 50% input subsidy, which was reduced to 15% as of 2022.

Although the subsidy programme is reported to have increased productivity and outputs of the targetted crops, diverging views among programme managers, researchers and other stakeholders have persisted regarding the programme's sustainability and real impact on farmers and the economy.

Considering the crucial role fertiliser plays in the advancement of agriculture as well numerous concerns raised by several actors on the subsidy programme, GIRSAL – through an industry consultant – commissioned an assessment of the FSP's cost and effectiveness to determine the programmes' impact in terms of fertiliser usage, crop yield, farmers' income and national security of targetted crops, and provide recommendations to enhance the subsidy programme's efficiency, effectiveness and sustainability.

The validation workshop was therefore organised to present findings of the comprehensive assessment, based on interviews in the field and a review of secondary data gathered.
Stakeholders present at the workshop included the Ministry of Food and Agriculture (MoFA), Peasant Farmers Association of Ghana, Ghana Agri-Input Dealers Association (GAIDA), Financial Institutions, the International Fertiliser Development Centre (IFDC), and Ghana Revenue Authority -Customs Division.

Presenting findings of the assessment, Takyi Sraha – Chief Operating Officer of GIRSAL, gave a detailed presentation on the rationale, methodology, analysis, findings, and recommendations of the research team based on interviews and data gathered mainly from the beneficiary and non-beneficiary farmers, input dealers, District Directors of the Ministry of Food and Agriculture, and Customs and Immigration Officers.

He further highlighted challenges associated with the subsidy programme – such as the late delivery of subsidised inputs, delay in payments to suppliers, perceived lack of transparency in quota allocation, limited availability of preferred fertiliser brands, quality issues, financial constraints, political interference, smuggling and hoarding.

Upon uncovering these challenges impeding positive impacts of the FSP, and having presented an analysis of the data obtained, the consultant and GIRSAL's technical experts proposed recommendations to strategise the programme toward the attainment of its intended purpose.

These recommendations included: timely availability of subsidised inputs, providing all-year-round fertiliser to farmers; increased warehouse infrastructure; integration of commercial farmers; digitisation of distribution processes, market linkages; higher government subsidies; the inclusion of agrochemicals; quality control measures; and eliminating political interference.
Notably, the team proposed innovative approaches to further optimise the fertiliser subsidy programme by providing payment of subsidies in-kind through waivers and cost-reduction measures; credit guarantee-backed financing arrangements to reduce interest costs and trigger a drop in fertiliser prices; as well as adopting a government-to-government special initiative to enable indigenous fertiliser importers to meet local demand, such as the Nigerian Presidential Fertiliser Initiative.

The team further recommended establishing a preferential exchange rate for fertiliser importers, strengthening fertiliser quality checks, reconciling import data, and establishing a pricing mechanism based on prices in neighbouring countries to deter smuggling.

Stakeholders at the workshop generally agreed with the study's findings and recommendations, and suggested additional inputs to improve the final report.

Going forward, the assessment team will incorporate feedback from the validation workshop to complete their report – which will be disseminated to policymakers including the Ministries of Food and Agriculture and Finance, and other key stakeholders.