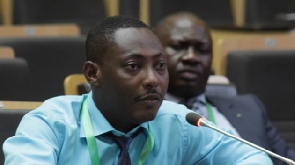 Sat, 22 Jul 2023 Source: GNA
Selasi Koffi Ackom, Chief Executive Officer of Ghana International Trade and Finance Conference (GITFiC)) in his recent visit to Namibia at the invitation of AECL also took advantage to meet some dignitaries to discuss AfCFTA and related issues.
A statement copied to the Ghana News Agency in Accra said Mr Ackom who was there as a special Guest of honour at the second Discover Namibia Intra-Africa Township Expo and Business Conference in Swakopmund also made time to visit.

It said he was welcomed and received at Namibia's State House by the Executive Director to the President, Ambassador Claudia Grace Uushona and Daisry Mathias OBAL – Presidential Advisor on Youth Matters & Enterprise Development.

"Felicitations were exchanged and discussions centred on the sensitisation and education of the AfCFTA in Namibia and how the Business Community and Education structures of Namibia could benefit from the apt content in the book, with Ghana-Namibia Trade Relations also popping up."

"The approved book on the #AfCFTA authored by the GITFiC was officially presented to President Hage Gottfried Geingob through his Executive Director".

It said subsequently, the official communique and action plans for the 7th GITFiC held at the Royal Senchi in the Eastern Region of Ghana on Africa's prospects for a single currency was also submitted to the Presidency.

This meeting was facilitated by the African Economic Leadership Council (AELC) under the distinguished leadership of Councillor Hafeni Heinrich Heinrich Hafeni.
In a similar development, the statement said Mr Ackom had a meeting with Group Chief Executive of First Rand, holders of First National Bank, Namibia (FNB FNBNamibia) who hosted him to a mini AfCFTA Book re-launch at their Headquarters in Windhoek during his recent visit.

The gesture came as along side special ceremony to the second Discover Namibia Intra-Africa Expo and Business Conference held in Swakopmund, Namibia.

Conrade Dempsey who had grabbed a copy of the book at the conference the previous day, read through and recommended the content at the mini-launch at his Headquarters.

The bank later ordered substantial copies for their MSMEs and SMEs customers to support GITFiC's Continental sensitisation and education on the African Continental Free Trade Area.

This proceeding was again facilitated by the Africa Economic Leadership Council under the supervision of Cllr Heinrich Hafeni.
Source: GNA