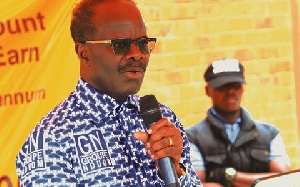 President of Groupe Nduom, Dr Papa Kwasi Nduom, has expressed optimism that GN Bank, a subsidiary of GN, will meet the new capital requirement set by the Bank of Ghana (BoG).
The BoG has said it expects that all commercial banks will be able to meet the new minimum capital requirement of GHS400 million by the December 2018 deadline.

The Central Bank, however, said it was ready to have discussions with the banks if they decided to engage in mergers or acquisitions to enable them to meet the new minimum capital requirement.

Commenting on the new requirement on his Facebook page, Dr Nduom said GN Bank will raise the required capital and continue to serve customers.
"We may disagree with the Bank of Ghana on this one. But they make the rules. We will raise the funds needed.

"GN Bank is here to stay and make a positive difference in the lives of the people in the towns and villages our bank was set up to serve," he said.