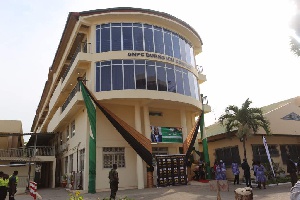 Mon, 14 Jan 2019 Source: Michael Creg Afful
The Ghana National Petroleum Corporation (GNPC) has completed a three-storey building project for the National Reconstructive Plastic Surgery and Burns Centre at the Korle-Bu Teaching Hospital at the cost of US$1.2 million, to enable the centre absorb more patients in order to prevent burns associated deaths.
The Government of Ghana via the Capital Investment Management Unit (CIMU) of the Ministry of Health started the project in 2006 but the project stalled due to lack of funds.

This, therefore, put pressure on the existing facility which could only absorb few burns patients, resulting in needless deaths.

Statistics from the centre indicates that about 27 burns patients died in 2006, while 32, 38, 52,90,81,126, 78 and 83 patients died in 2007, 2008, 2009, 2010, 2011, 2012, 2013 and 2014 respectively.

Disturbed by the scary figures, the Director of the Centre, Dr. W.O Ampomah, wrote to the GNPC to request for financial support to complete the project to enable them absorb more burns patients to save lives.

Speaking at the commissioning of the project, Chief Executive Officer of GNPC, Dr. K.K Sarpong expressed the hope that the completion of the project would ensure 90% survival rate of victims of burns.
"It was obvious that there was a need to improve the worrying survival rate of 40% of burns patients," he stated.

Aside supporting the Burns Centre, Dr Sarpong disclosed that the Board has also approved the purchase of specialized cameras costing US$900,000 for the Oncology Department of the Korle-Bu Teaching Hospital.

Touching on other activities the GNPC has undertaken, Dr Sarpong said through the GNPC Foundation, which was established about two years ago, the corporation has built classroom blocks, science laboratories, sanitation facilities, furniture, teaching aids, among others for educational institutions from primary to tertiary levels.

He added that boreholes, sanitary facilities, health campaigns and surgeries, markets and sports infrastructure have also been provided to communities across the country.

"I cannot forget to mention over 2,000 scholarships offered to students pursuing STEM programmes in Ghana and overseas universities," he revealed.
He continued that the corporation is currently constructing US$4.5 million Centre of Excellence for Sickle Cell Treatment and Research at the Komfo Anokye Teaching Hospital in Kumasi, as well as an 80-bed capacity hostel for St. John of God College of Health at Duayaw Nkwanta.

"We have also invested in breast cancer and eye screening in the Western Region. A programme to undertake hernia operation in the Northern Regions is being discussed with Aker Energy, our partner," Dr Sarpong concluded.

On his part, Dr. W. O Ampomah commended GNPC for the support and assured that the facility would be put to good use.
Source: Michael Creg Afful