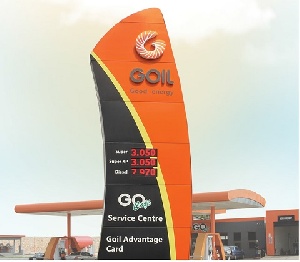 Ghana Oil Company Limited (GOIL), the nation's foremost indigenous Oil Marketing Company (OMC), on Wednesday rolled-out a national strategic plan of action to equip fuel tanker operators with skills in transporting petroleum products.
The GOIL National Strategic Fuel Tanker Operators Regulation seeks to set the grounds for professional standards in transportation of petroleum products considered as hazardous, in accordance with international best practices to eliminate potential danger.

Mr. Benjamin Torkornoo, GOIL Head of Operations who launched the initiative, told the Ghana News Agency in an interview that the strategic plan of action seeks to ensure petroleum truck drivers comply with standards, safety and environmental best practices.

"We want GOIL bulk transporters to adhere to international standards for transporting dangerous goods on the roads backed by the United Nations safety measures," he said.

He said as part of the strategic plan, about 120 Bulk Transport Drivers from the southern sector of the country are going through orientation to update their capacity in observance of road signs, operation of fire-extinguishers, pre-trip inspection, and personal protective equipment.

Other areas of cover include: Bulk Road Vehicle (BRV) operations; seat-positioning, positions of security signs on BRV tanks; activities at the loading depot, entering the depot; health and safety measures, and before leaving the loading rack.
He said the strategic plan also seeks to reinforce operations at the dipping platform; driving rules, defensive driving; general parking rules; adherence at the dealer-direct customer premises, off-loading and end of discharging.

Mr. Torkornoo said: "We are also equipping our petroleum truck drivers with modern skills and how to avoid or manage spillage of products and dealing with off-site incidents".

He noted that in view of the sensitive nature of operating in the petroleum sector under the strategic plan, drivers are to undergo mandatory professional training periodically, which will include knowledge on petroleum, defensive driving, and emergency preparedness and response.

He said a driver will have to meet minimum driving experience criteria and undergo a medical examination for fitness to drive.

As part of the strategic plan, a new GOIL Truck Driver's manual was launched alongside the training; and trained drivers are also expected to sign a driver-declaration form commitment to abide by the GOIL National Strategic Fuel Tanker Operators Regulation.
Mr. Patrick Akpe Kwame Akorli, Group Chief Executive Officer of GOIL, explained GOIL's research has established that the professional petroleum driver performs a potentially hazardous and important function in the distribution chain of petroleum products.

"As such, it is critical that these professional drivers are equipped with expertise and an operational reference manual to ensure that safety is never compromised with respect to life, property and the environment when performing their duties," he stated.

Mr. Akorli, who is also known as Togbe Adza-Nye IV, Dutorfia of Ziavi in the Volta Region, said the manual serves as a comprehensive format to instil safety and health-consciousness, as well as environmentally responsible operations in the transportation of petroleum products.

The GOIL Managing Director however commended haulage transporters and drivers for playing a crucial role in the transportation and distribution of GOIL petroleum products.

Mr. Akorli advised transport owners to take good care of their drivers, adding: "The welfare drivers should be of paramount interest to vehicle owners".