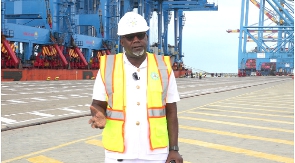 Mon, 18 Sep 2023 Source: Eye on Port
The Ghana Ports and Harbours Authority (GPHA) is set to receive two new tugboats with 80-ton bollard pull at the port of Tema to boost marine operational activities.
Speaking exclusively to Eye on Port, the Harbour Master at the Port of Tema, Capt. Francis Kwesi Micah revealed that work is far advanced, and the marine craft is expected before the end of October.

"Sea trials have been conducted safely and so we are waiting for the finalization of some petty works that need to be worked on and thereafter the tugs will set sail. We are expecting if all goes well by the middle of October we might have the vessels with us," he stated.

He says such investments tie into the overall objective of ensuring efficiency at the Port of Tema in handling the numerous merchant vessels that call the Port.

It would be recalled that in 2020, the Ghana Ports and Harbours Authority commissioned three new tugboats as part of its strategies to attract larger vessels and enhance the turnaround time of vessels at the Port of Tema.

The state-of-the-art ASD tugboats, which are the first of their kind in Central and West Africa are of 80 tonnes bollard pull capacity and capable of performing firefighting and rescue functions.
The boats were named after Commander K.T Dovlo, Ben Owusu-Mensah and Josephine Asante who have exhibited exemplary character and contributed immensely to the development of the organization and the country at large.

Commander K.T Dovlo and Ben Owusu-Mensah both served as Director Generals of GPHA from 1994 to 1998 and from 2001 to 2008 respectively.

The late Josephine Asante, at the time of her passing on was the Marketing and Public Affairs Manager for Tema Port.

The Director General of the Ghana Ports and Harbours Authority, Michael Luguje, during the ceremony, said the boats were commissioned to enhance GPHA's capacity to be able to receive modern container vessels and bulk carriers.
Source: Eye on Port