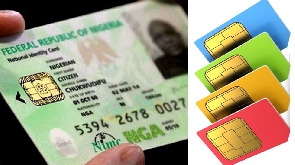 The National Communications Authority (NCA) has noted that there is no irregularity associated with the linking of a mobile phone subscriber's Ghana Card to multiple SIM cards.
According to the head of consumer and corporate affairs at the NCA, Nana Dufie Badu, this may occur if an agent responsible for registering your SIM used your data to register for someone else.

She said, "If you check and you find out that there are SIM cards linked to your Ghana Card without your knowledge, it doesn't mean that your data has been breached.

"All that it means is that some agent who registered you may have taken your Ghana Card details and used them to pre-register someone using the old method without your knowledge," she was quoted by asaaseradio.com.

She added that any customer who discovers that their Ghana Card has been linked to an unknown should contact their service providers to have it rectified and delinked.

This is because some mobile phone subscribers have discovered that their Ghana Cards have been linked to multiple SIM cards without their knowledge.
Watch the latest edition of BizTech and Biz Headlines below:







SSD/FNOQ