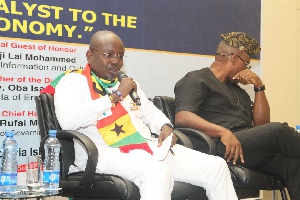 Sun, 15 Jul 2018 Source: GTA
The CEO of the Ghana Tourism Authority (GTA), Akwasi Agyeman, has called on Tourism Boards and Authorities in the sub-region to push for multi- destination tourism in order for the various countries to remain competitive.
Speaking as a panelist at the forum on Tourism and Hospitality organised by the Nigerian Institute of Directors in Lagos, he said other regional blocs such as East Africa and Southern Africa are doing same and West Africa must not lag behind. Recounting his experience on the road trip to Lagos, he said there are simply too many needless road blocks.

Sharing Ghana's experience in Domestic Tourism, he indicated Ghana was still Work in Progress and outlined the See Ghana, Eat Ghana, Wear Ghana and Feel Ghana as the key strategic anchor for the Authority backed by aggressive marketing, a robust investment drive , automation of the industry and stakeholder partnerships.

According to the CEO, Ghana's recent hosting of the West African Integrated Travel Forum in Accra is indication of the leading role the Country is playing to connect West Africa and urged Nigerian policy makers to help open up the borders.
Senator Ben Murray Bruce who was the keynote speaker urged Nigeria to pick lessons from Ghana and ease up its border issues and enhance its security to attract more tourists.

On the fringes of the forum, the CEO met Nigerian organiser of Destination Akosombo Ghana and Founder of Motherland beckons, Dr Wanle Akinboboye to agree a collaborative marketing approach and also met with officials of the Department of Tourism in Cotonou, Benin.
Source: GTA