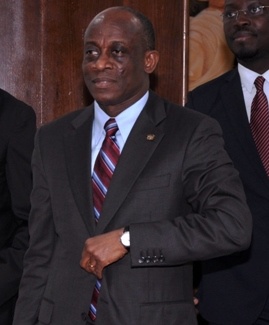 Mon, 30 Jun 2014 Source: GNA
Ghana is rated amongst the first three most favourable destinations in intra-Africa for investment.

This was revealed in a statement signed by Zuweira Ibrahim, Minister Consular in-charge of Information at the Ghana High Commission, London, and copied to Ghana News Agency in Accra, after a round table in South East London, organised by Invest Africa to receive the attractiveness survey report conducted by Ernst & Young with focus on Ghana.


The Ernst & Young's attractiveness survey is recognised as key source of insight on foreign direct investment that examines the attractiveness of a particular region or country as an investment destination.


It is designed to help businesses make investment decisions and to assist governments to remove barriers for future growth.


The statement said, presenting the report Mr. Michael Lalor of Ernst & Young, revealed that whilst Foreign Direct Investment (FDI) to North Africa had stagnated due to political insecurity; FDI to sub-Saharan Africa had grown.


It said the report found that the new trend of cross country investment within Africa is also growing and that Africans themselves are investing within Africa. He mentioned Nigeria and South Africa as some of the African countries investing heavily in Ghana.


The statement said the research indicates that companies in the United Kingdom remains the biggest in Africa with most of the established companies continually expanding their footprint.

It said new investment into Africa had come especially from the Diaspora, noting that the perception that Africa is losing out on FDI's stemmed from corruption, geopolitical and security risks.


It said Mr. Victor Emmanuel Smith, Ghana High Commissioner to the United Kingdom and Northern Ireland, who contributed to the discussion said Ghana would soon be holding a mid-term review of the macro-economic situation in the country and is sure that the review result would boost investor's confidence.


Mr. Smith said African economies need to look back to the basics by strengthening infrastructure and the manufacturing sectors in order to sustain long-term investment.


He assured the panelists that Ghana would continue to work towards creating conducive atmosphere for investors to feel comfortable to put their money in the country.


Mr. Smith thanked Ernst & Young and Invest Africa for the work, adding that, Ghana would continue to encourage investors to spread their business across the 10 regions in order to help stem the rural/urban migration facing the country.

Source: GNA