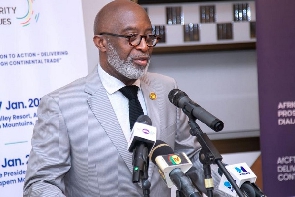 The Chief Executive Officer (CEO) of the Ghana Investment Promotion Center (GIPC), Yofi Grant, has stated that Ghana is expecting to restructure up to $2.5 billion in external debt restructuring.
According to him, the country is expecting to use these to close fiscal gaps and support the 2023 budget.

The GIPC CEO noted that the $3 billion IMF loan is also to help the country's fiscal space among other things.

"With the current fiscal gaps, we anticipate external financing for the budget through the anticipated $3 billion agreement with the IMF. Additionally, we are working on some external debt restructuring to provide financing of approximately $2.5 billion.
"We anticipate concluding negotiations with our other key partners tomorrow to further enhance our financial position," he was quoted by citinewsroom.com.

SSD/FNOQ