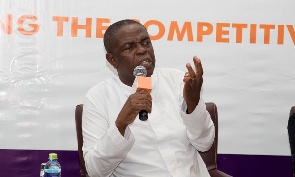 Kwesi Pratt Jnr, the Managing Editor of the Insight Newspaper has submitted that the recent economic turmoil Ghana is experiencing was unprecedented.
Whiles speaking on a discussion on Peace FM, the veteran ournalist said: "What is happening today with our economy has never happened before."

Dennis Miracles Aboagye, a presidential staffer and co-panelist, butt into Pratt's submission insisting that "it has happened before and when it did, it was far worse..."

Pratt after cautioning Aboagye to decorous, continued with his submission stating: "Never in our history have we we used 120% of total national revenue to to pay for debt servicing, debt repayment and public sector emoluments, it has never before happened," he stressed.

Government working to attain IMF bailout

Government run to the International Monetary Fund (IMF) in 2022 at a time the economy was in a downward spiral.
The government only recently secured a Domestic Debt Exchange Programme (DDEP), which according to experts is a major conditionality of the lender in granting Board approval for a US$3 billion bailout.

The programme was meant to ensure the streamlining Ghana's unsustainable debt. Government announced an 85% participation rate.

Ghana is hoping to get the first tranche of the bailout by March this year in order to among others rein in inflation and arrest the galloping depreciation of the cedi.

Talks are currently underway with Ghana's external creditors in a bid to restructure loans in order to get IMF Board approval in March 2023.

Watch the latest edition of BizTech and Biz Headlines below:








Watch the latest edition of Business Moments below:




SARA