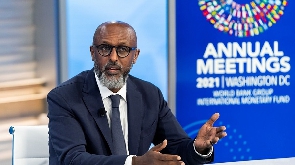 Mon, 24 Apr 2023 Source: Bloomberg
Ghana has taken the tough economic decisions needed to win a rescue package from the International Monetary Fund, once bilateral creditors sign off on assurances, said the institution's Africa Department Director, Abebe Selassie.
The government has increased taxes and imposed losses on domestic investors, as authorities attempt to meet IMF demands for the $3 billion loan. Still, informal talks with bilateral lenders have dragged on.

Ghana has "done all of the prior actions that were expected of them for the program," Selassie said in an interview. "They've done a really, really difficult domestic debt restructuring exercise. The country now needs to get the resources required to support reserves."

Bilateral lenders, including China, are now expected to set up a committee to start formal negotiations with Ghana in the next few days. First on the committee's agenda will be a written commitment to provide relief to the West African nation, paving the way for the loan from the IMF.

"Provided we have the financing assurances, we would go to the board very quickly after that," Selassie said. "So within the next three, four weeks. That's the key hurdle for us."

The talks are taking place under the Group of 20's so-called Common Framework, which expands the Paris Club of sovereign creditors to include China and other nations. Just under a third of Ghana's bilateral debt, $1.9 billion, is owed to China. That is just a fraction of the nation's 575.7 billion cedis ($50 billion) of public debt at the end of November.
Social Cost

Five days after a surprise interest rate hike to a record 29.5% on March 27, parliament passed a bill to raise an additional 4 billion cedis ($353 million) in revenue this year. That was after a previous 250 basis points increase in value added tax to 15%.

The fiscal measures and restructuring of cedi-denominated liabilities will help the West African economy lower its public debt to 71% of gross domestic product by 2028, Finance Minister Ken Ofori-Atta said in a presentation Thursday. The IMF has said it needs be on track to drop to 55% by that year to qualify for support. Before the government's interventions, it had been projected to reach 109%.

"There'll be burden-sharing all around," Ofori-Atta said. "If you join us in this, you really will help us build a robust economy and come back and be able to resume our partnership with you and the markets."

The adjustments and latest tax increases are taking a heavy toll on Ghanaians. Millions, like Esther Annan, a street vendor in the capital, Accra, have seen their living standards drop as inflation soars.
The mother of six took out a micro loan to fund her cloth and bed-linen business in January but has now missed weekly payments after local demand dried up and interest rates soared.

"I play cat-and-mouse games with the lenders because there is no money to pay them," she said. "The interest on the loans has become so high."

Getting Worse

Local lenders, which were the most exposed to the domestic debt, are now expected to skew credit to sectors that can readily pay while those needing it most miss out, said Richmond Atuahene, an analyst at Salman Partners and Financial Consult Ltd. in Accra.

The latest tax increases are "an additional cost and if industry can no longer bear it, it will be compelled to cut costs, including labor and output," said Humphrey Kwesi Ayim-Darke, president of the Association of Ghana Industries. "Small and medium-sized companies, manufacturing and agriculture are going to be hardest hit because of their high risk premium historically."
A slowdown in credit growth and an expected drop in consumer spending could decelerate economic expansion this year, according to three economists surveyed by Bloomberg.

"The downside risks to the government's 2.8% real GDP growth target for this year have increased on the back of the tightened monetary policy stance," Mark Bohlund, a senior credit research analyst with REDD Intelligence, said.

Watch the latest edition of BizTech and Biz Headlines below:




Source: Bloomberg