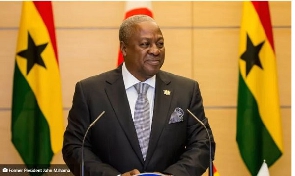 Flagbearer of the National Democratic Congress (NDC), John Dramani Mahama, has asserted that Ghana has become pitiful due to the wobbling state of the local economy.
According to him, the poor leadership of the Akufo-Addo-led government has plunged the country into total crisis.

Speaking at a gathering in Wenchi as part of his 'Building Ghana' tour, John Dramani Mahama further said the country was also retrogressing in development under the current administration.

In his view, the governing New Patriotic Party government could have continued the developmental projects he started, but, abandoned them due to political reasons.

The NDC flagbearer said, "People thought there was development and prosperity here, and now we have lost everything. The nation is pitiful, the country is facing hardships, and the economy is bad."

"I thought they would continue the good work I left behind, but the nation seems to be retrogressing in development," he stated.

It would be recalled that the government on July 1, 2022, announced its decision to run to the International Monetary Fund (IMF) for a $3 billion financial bailout programme.
Subsequently, a team from the IMF arrived in the country from July 6 to July 13, 2022, to engage Ghanaian authorities for a possible economic support programme.

A staff-level agreement between the Government of Ghana and the IMF was reached in December 2022.

On May 17, 2023, IMF's executive board approved Ghana's $3 billion loan facility.

The first tranche of $600 million was received by the Bank of Ghana (BoG) on Friday, May 19, 2023 with the country aiming to secure the second tranche bailout funds before the end of this year.

The IMF programme, according to the government is aimed at restoring macroeconomic stability and safeguarding debt sustainability among many others.

SA/MA
Watch the latest edition of BizTech below:



Click here to follow the GhanaWeb Business WhatsApp channel

Ghana's leading digital news platform, GhanaWeb, in conjunction with the Korle-Bu Teaching Hospital, is embarking on an aggressive campaign which is geared towards ensuring that parliament passes comprehensive legislation to guide organ harvesting, organ donation, and organ transplantation in the country.