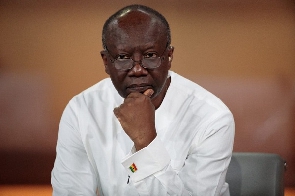 Tue, 11 Apr 2023 Source: Bloomberg
Ghana is poised to secure approval from the International Monetary Fund's board for a $3 billion bailout prior to restructuring its Eurobonds, according to people with knowledge of the matter.
Financing assurances from bilateral creditors, who plan to form an official committee this week, remain the last hurdle for the West African nation before it approaches the IMF Board, said the people who asked not to be identified because they are not permitted to speak publicly about the matter.

Ghana, which is restructuring most of its public debt, has yet to complete negotiations to reorganize about $13 billion of eurobonds after the government unilaterally suspended payments on most of its external obligations in December. The private creditors face a risk of losing as much as 30% on the principal and may be asked to forfeit some interest payments, Deputy Minister of Finance John Kumah said in November.

Spokespeople at the finance ministry and the central bank couldn't be reached on a public holiday. An IMF spokesperson didn't respond to an email seeking comment.
The bilateral creditor committee is expected to have its first meeting within a week of its formation with Ghana now targeting an agreement by the end of April, the people said. For Zambia, it took creditors six weeks to provide financing assurances. The IMF board approved the southern African nation's program a month later.

Ghana's public debt stood at about 575.7 billion cedis ($53 billion) at the end of November. President Nana Akufo-Addo's government has imposed new taxes and has pledged not to borrow from the nation's central bank as part of a deal to secure the IMF bailout.
Source: Bloomberg