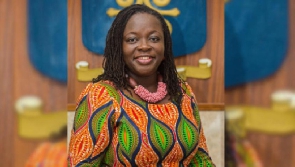 Tue, 17 Jan 2023 Source: GNA
Ghana must take the opportunity as host of the African Continental Free Trade Area (AfCFTA) Secretariat to lead discussions on regional trade, Professor Nana Aba Appiah Amfo, Vice-Chancellor, University of Ghana (UG) has said.
Describing the AfCFTA as a crucial milestone for Africa, she said the successful implementation of the Agreement would help boost intra-Africa trade and serve as a catalyst for the continent's economic transformation.

"Ghana should take the opportunity to lead dialogue aimed at repositioning its financial, industrial, and vocational sectors as well as technological development, security apparatus to deal with emerging issues in the regional trade area. " Prof. Amfo said at the opening of the 74th Annual New Year School and Conference at the UG on Tuesday.

The three-day Conference is on the theme: "Positioning the African market for Sustainable Economic Development through the African Continental Free Trade Area (AfCFTA)."

Prof. Amfo said the Conference would offer a unique platform to initiate discussions on the successful operationalisation of the (AfCFTA).

She said said there was an urgent need to restore the African economy, adding that the UG had an important role to play in spurring economic growth and development through innovation, knowledge transfer and community engagement.

"It is our anticipation that this year's New Year School and Conference will lead the way in helping to identify models that would enhance the regional economic cooperation and integration through free trade that we envisage leads to a properous continent," she said.
Dr Daniel McKorley, Chairman, McDan Group of Companies, said the ability of the private sector to lead key sectors of the African economy would be crucial for the effective operationalisation of the Agreement.

He urged the private sector to educate themselves effectively about the functions of AfCFTA to enable them understand and participate in the framework.

Since its inception in 1948, the Annual New Year School and Conference has been the flagship programme of the University and attracts people from all walks of life to deliberate on topical issues of national and international interests.

It opens at the beginning of every new year.

At the end of every school and conference, a communiqué is issued, which captures the recommendations of participants and discussants.

The recommendations usually inform policy decisions and directions in the country.
Source: GNA