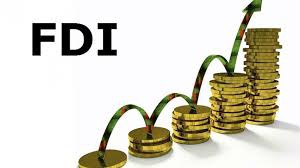 Wed, 31 May 2023 Source: GNA
The Ghana Netherlands Business and Culture Council (GNBCC), and the European Chamber of Commerce have affirmed Ghana's position as the leading destination for Foreign Direct Investment (FDI) and trade with the highest competitiveness score in West Africa. 
These organisations, however, noted that Senegal and Ivory Coast were fast gaining ground and Ghana had to redouble her efforts to remain competitive.

Mr. Tjalling Wiarda, General Manager of the Ghana Netherlands Business and Culture Council, and Mr. Nicholas Gebara, Executive Director of the European Chamber of Commerce were speaking during an expert panel webinar to mark European Union Day held at the Institute of International Affairs, Ghana (GhIIA.org). 

The webinar was organized as part of the celebrations to mark European Day and in recognition of the long period of trade relations between Europe and Ghana. 

It was also an attempt to tap into the knowledge of the European Chambers of Commerce on how Ghana was competing in attracting European businesses and investments compared to its peers in sub-Saharan Africa. 

They said despite major challenges, Ghana remained an oasis of peace and security in the West Africa sub-region and thus continued to be a preferred destination.

They agreed that the establishment of the African Continental Free Trade Area (AfCFTA) and the siting of the AfCFTA Secretariat in Accra presented a bullish opportunity for growth in the economy.
Mr. Gebara said, "What any European company is looking for is ease of access to large markets in Africa. So, if I can trade with Ghana, and through that gain access to the 300 million ECOWAS market as well, it will be attractive."  

He said the modification and the implementation of the Companies Act along with the introduction of the Insolvency Law and the Bankruptcy Law was an indication of efforts to streamline the regulatory framework essential for any business entity registered and operating in Ghana.

He, however, noted that consultations could be deepened to ensure that the business community is carried out.

Mr. Gebara said even though other countries seem to have lax regimes and were thus inching up in the volume of trade, it was becoming evident that their lack of standards on issues like human rights, quality standards, and climate issues was in the long-term leading to unsustainable growth.

Mr. Wiarda, however, said Ghana had to do more to become more attractive with the AfCFTA framework, otherwise, companies would move their bases to other African countries as entry points.

The General Manager said for instance more had to be done to bring to life the free zones concept as the current feedback from prospective companies indicated that the costs of setting up were a bit higher compared to other markets. 
He further noted that Senegal and Ivory Coast were making great strides in attracting businesses, and indeed the port of Abidjan was becoming preferred for trade to the Sahelian region.

He stressed that the cost of doing business in Ghana was very high and this was on the basis that a foreigner required $200,000 as capital before setting up a business in Ghana as compared to Nigeria which was $50,000.

Mr Wirada said Kotoka was now the most expensive airport for airlines to land in Africa, and the fifth most expensive in the world, therefore, more was needed to be done if Ghana wished to put in place an airbridge for produce, as Kenya had achieved for Naivasha to Europe.

He said Ghana could take very useful lessons from countries like Vietnam, Rwanda, Suriname, and Morocco on the needed reforms to boost competitiveness.
Source: GNA