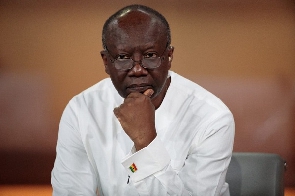 Thu, 26 Jan 2023 Source: Bloomberg
The Republic of Ghana's plan to suspend debt repayments is a potential repudiation or moratorium, according to a swaps panel.
It's a significant step toward the possible restructuring being labeled a credit event, which would trigger a payout on credit-default swaps linked to the nation's bonds.

The Credit Derivatives Determinations Committee ruled on Wednesday that the statements released by Ghana's Finance Ministry on December 19 to announce a suspension of debt servicing on its eurobonds, commercial term loans and most of its bilateral debt, meet the definition of a "potential repudiation/moratorium," according to a statement.

It doesn't yet constitute a so-called credit event, because the nation hadn't missed payments on its bonds when the panel was asked to evaluate the situation.
Ghana is in the process of negotiating a restructuring plan for its local and external debt. Alongside a moratorium on its eurobond payments, the country is also seeking a deal for its local-currency debt, while it's negotiating an agreement with international creditors under the Group of 20 Common Framework. A restructuring is needed to unlock an International Monetary Fund bailout.

The Credit Derivatives Determinations Committee is made up of a panel of banks and asset managers who regulate the credit derivative swap market.
Source: Bloomberg