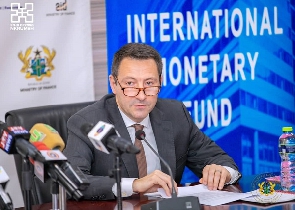 Ghana's economic reform programme presented to the IMF for the US$3 billion bailout is a very rich one, the Fund's Mission Chief Stephane Roudet has said.
In a post-board approval joint press conference in Washington, Mr Roudet told journalists during the Q&A session that "the first thing I would like to emphasise is that, of course, this programme is very much focused on restoring macroeconomic stability, anchoring debt stability, and it will also create the foundations for higher and more inclusive growth. So, I think that's very important because this will set the stage for a much brighter future for all Ghanaians".

"I think it's important to emphasise also that this is a programme that is very rich in its structural component", Mr Roudet added.
"It includes many reforms that cover a large range of sectors, and these reforms will make the economy more resilient to shocks in the future; and this is what really the government and the IMF are looking for in this programme", he explained.

He said: "It's a programme that will make the economy more resilient and more likely to withstand shocks in the future".