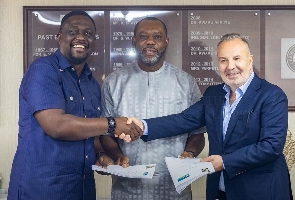 Minister of Energy, Dr. Matthew Opoku Prempeh has disclosed that the Electricity Company of Ghana has signed a power purchase agreement (PPA) with one AKSA Energy Company Limited (AECL).
In a Facebook post sighted by GhanaWeb Business, the agreement forms part of efforts to ensure power grid stability and reliability, especially in the middle belts of Ghana.

"Our efforts at ensuring power supply reliability in the overall context of our socio-economic development continues on daily basis, anchored on the dictates of good governance."

"In my remarks, I reminded the two parties of the essence of this morning's exercise and thus, charged the ECG to ensure the full operationalization of the agreement in the interest of Ghanaians," the Minister's post read.

Dr Opoku Prempeh said the Ministry envisages an energy sector that will be robust enough to support the national economy.

He therefore reiterated government's commitment to increase investments through partnerships that will result in constant availability of power for industrial and residential consumption.

Present at the signing ceremony was the Minister of Energy, Dr. Matthew Opoku Prempeh, officials from AKSA Energy, Deputy Ministers of Energy, Andrew Egyapa Mercer and Herbert Krapa along with Managing Director of ECG, Samuel Dubik Mahama.


Watch the latest edition of BizTech and Biz Headlines below:







MA/FNOQ