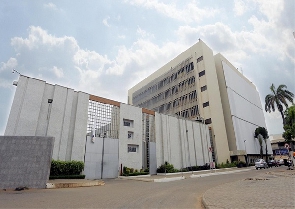 Sat, 21 Jan 2023 Source: Bloomberg
Ghanaian banks are holding out for better terms in a domestic bond-exchange program aimed at easing the government's debt-service burden.
No bank will make a profit in 2022 if they accept the new bonds offered under the exchange, and some face collapse, according to two people familiar with ongoing talks between the government and lenders, who asked not to be identified because they're not authorized to speak publicly.

Ghana is restructuring most of its public debt, estimated at 467 billion cedis ($39.2 billion) as at the end of September, to qualify for a $3 billion bailout from the International Monetary Fund. Local bondholders have been asked to voluntarily exchange 137.3 billion cedis of debt for new bonds that will pay zero interest in 2023 and less than existing securities in ensuing years.

The repayment of principal for the new bonds won't start until 2027 and ends in 2038, under current terms. Banks are negotiating for principal repayments to start by 2026 and end around 2033, the people said.

Loss Provisions

Banks, which own about a third of the existing securities, will make losses on the difference between the net present value of their current holdings and the new bonds, the people said. They will have to make provision for the losses in their books to satisfy accounting standards, they said.
While the Bank of Ghana set the risk-weight of new bonds at zero percent for capital adequacy ratio calculations, auditors have disagreed, calling for full provision, the people said.

The Ghana Association of Banks, which declined to comment on the terms under negotiation, got approval from the Ghana Stock Exchange for members to delay filing 2022 financial statements by a month to April 30, it said in a statement Thursday.

A finance ministry spokesperson declined to comment.

Citigroup Inc. estimates net-present-value losses for bondholders of as much as 77% in 2023, it said in a Jan. 4 note to clients.

Ghana is "confident" it will reach an agreement with banks and close its debt exchange offer on Jan. 31, Finance Minister Ken Ofori-Atta said in an interview with Accra-based Joy News late Thursday. He also said the zero-coupon in 2023 was being reconsidered.
The government is targeting 80% participation in the domestic debt swap program. It's also engaging with bilateral creditors through the Paris Club to reach a restructuring deal by the end of February, Ofori-Atta told Joy FM. And it's in separate talks with holders of external debt to restructure eurobonds.

Over the next month, Ghana aims to make enough progress to go to the IMF Executive Board in March to secure a final approval for its program, Ofori-Atta said. The country seeks to lower its public debt from an IMF estimate of 105% of gross domestic product in 2022 to 55% by 2028.

Since Ghana launched its exchange program on Dec. 4, there's been pushback from several investor groups, resulting in three deadline extensions so far. The government has set up a 15 billion cedi fund to support the banking sector.
Source: Bloomberg