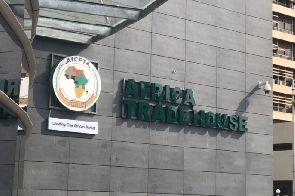 Fri, 20 Jan 2023 Source: GNA
Entrepreneur and Founder of Kings Innovation, Nana Owusu-Achaw, has advised young people in the country to learn the French language to communicate effectively under the African Continental Free Trade Area (AfCFTA).
He said the youth would maximize the benefit of AfCFTA if they made conscious efforts to learn the French language to be competitive within the trading space.

Mr Owusu-Achaw gave the advice on Thursday at this year's 74th Annual New Year School and Conference in Accra, organized by the School of Continuing and Distance Education, College of Education, University of Ghana.

The Conference is on the theme: "Positioning the African Market for Sustainable Economic Development Through AfCFTA".

The session, dubbed: "Youth School," brought together selected tertiary schools and secondary schools to learn about AfCFTA and contribute to the national discourse.

He advised the youth to make good use of their time and seek information that would improve their career pathways.

"You need to avoid gossiping and start thinking about business opportunities and take advantage of AfCFTA, which is the driver of Africa's economy," he said.
He urged the youth to be creative and venture into entrepreneurship to be self-reliant, adding that " there are so many opportunities in the agricultural sector".

He called on the youth to tap into the opportunities offered by trading within African countries, because they were the future generations who would transform the socio-economic development of the continent.

Research revealed that under AfCFTA, young people will be able to create 450 million jobs in Africa, contributing over 60 per cent to the continent's Gross Domestic Product.

AfCFTA is expected to create a single market for goods and services for almost 1.3 billion people across Africa, including women and youth.

Dr Fareed K. Arthur, National AfCFTA Coordinator Office, urged the youth to take advantage of AfCFTA by being innovative and creating software applications for online trading.

He said Ghana, as the host country for the AfCFTA Secretariat, was positioned to become the commercial capital of Africa and determined to leverage trade and investment opportunities of the single trade initiative.
Mr Andrews Dotsey, Director, 74th Annual News Year School and Conference, said the mission and vision of the youth school were to provide a platform to harness the potential of the youth by inspiring them to contribute to national issues.

Bright Tetteh, a second-year student at Presbyterian Senior High School, Legon, said he had learned how to develop an entrepreneurial business to improve his livelihood.

Ms Theodora Fantevi, a third-year student at Accra Girls Senior High School, said, "I have learned entrepreneurship skills and how to secure my intellectual property."

Since its inception in 1948, the Conference has been the flagship programme of the University and attracts people from all walks of life to deliberate on topical issues of national and international interest.

The recommendations inform policy decisions and directions in the country.
Source: GNA