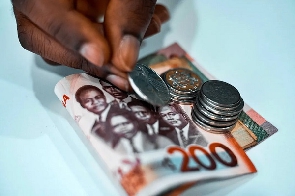 An official of the Economic and Organised Crime Office (EOCO) in the Upper East Region, Patrick Senyo Amegago, has revealed that many people are on government payroll and receiving monthly salaries for no work done, explaining that such people in collusion with agents get their names onto the payroll and receive salaries for no work done.
He added that some of such persons perpetrating fraud on the state have been prosecuted while others are being prosecuted.

"You have people who are not working as state employees but find themselves through crooked ways and enter the Government of Ghana payroll. They have their agents wherever they are. So people are on the Government of Ghana payroll who are not working. We have several of them in court being prosecuted," he revealed in an interview with Bolgatanga-based Dreamz FM.

He noted that even though EOCO is focused on getting such persons, upon their arrest, to refund the money to the Government, they go a step further to prosecute them.
"Over the years, we have been focused on recovering stolen monies back to the state. That doesn't mean that if we take the money from you, you are going scot-free.

"We have recovered a lot for the state and these people are facing prosecution," he stressed.

The issue of ghost names – persons on Government payroll- has remained a challenge for the Government as previous attempts to rid the payroll of such names have yielded little positive results.