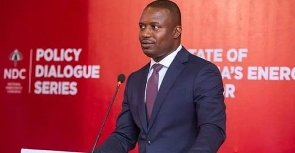 A ranking member of parliament's energy committee, John Jinapor, has asked the government to stop selling falsehood to Ghanaians in the gold for oil policy.
He said the "so-called" deal that involves Ghana's gold being exchanged for gold is not only a further depletion of the country's resources but also a mirage.

"Government should stop deceiving us. If Ghana is so broke, our reserves have been so depleted that we do not have dollars and so we want to do an arrangement in order to use these methods to buy fuel, fair enough, but who will sell fuel cheaper to you?" he is quoted by myjoyonline.com.

"Nobody in this world will sell his oil to you for a cheaper price than the normal price," he added.

John Jinapor explained that because gold is a commodity and not a currency the ounces of gold will be converted to meet the price of say, a barrel of oil.
"This issue of trying to obfuscate the issue and deceive us, will not work because if the oil has a price and gold has a price, all you ought to do is to do a matching order and determine the price of oil and say how much compared to the price of gold in terms of oil of barrels can I get? So where is that barter?" he explained.

Speaking further, John Jinapor underscored the fact that the Parliamentary Select Committee on Mines and Energy has not been fully briefed on the policy.

SSD/FNOQ