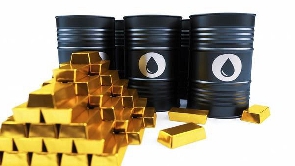 The deputy Energy Minister, Andrew Egyapa Mercer, has said that the first consignment of oil the government brought into Ghana under the Gold-for-Oil policy was not paid for with gold as expected.
According to a report by citinewroom.com, the minister stated that the first consignment of 40,000 tons of oil brought into the country was paid for with cash.

Egyapa Mercer explained that the government could not exchange gold for oil because the company it dealt with initially did not have the capacity to exchange gold for oil.

"The policy actually started with an intent to do strict barter for gold and petroleum products, but it became apparent that any of the international oil trading companies that do not have a commodity wing to deal with gold on their behalf will be excluded from the policy.

"We developed the policy such that we were operating two streams; one was direct barter, and the second was monetising the gold so we can pay for IOTs that were not other commodity focused but solely petroleum products," he is quoted as having said on Citi News.

Meanwhile, Vice President Mahamudu Bawumia is reported to have bragged about the Gold-for-Oil policy after the first product under it was delivered.
He said that the delivery of the first batch of oil shows that the policy will work.

"…Ghana took delivery of its first cargo under the gold for oil policy. This is our test cargo, it is the cargo to test the framework if everything that has been put in place will work, by the grace of God the Framework will work and if that should happen we are going to save a lot of foreign exchange and reduce the pressure on our currency," Bawumia is quoted to have said at 2023 New Year School event.

Background:

Vice President, Dr Mahamudu Bawumia in November 2022 first announced the government's plan to undertake the gold-for-oil initiative. The deal hinged on buying oil products with Ghana's gold instead of the US dollar.

Dr Bawumia on Facebook earlier explained that the usage of gold to purchase oil would also address Ghana's dwindling foreign reserves as well as reduce demand for US dollars by oil importers.
"It will fundamentally change our balance of payments and significantly reduce the persistent depreciation of our currency," the vice president earlier wrote.

Under the policy, the government believes that using gold to purchase oil products would also bring stability to the exchange rate market and ensure domestic oil operators do not solely depend on foreign exchange to import products.

IB/SEA