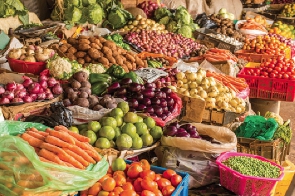 Government has allocated GH¢1billion to the Millennium Development Authority (MiDA) as part of implementing the second phase of Planting for Food and Jobs (PFJ 2.0).
This is in line with efforts to implement the Economic Enclaves Project (EEP) – aimed at improving the country's food security while reducing rising food import bills. It also seeks to address youth unemployment.

This funding will be dedicated to providing critical infrastructure, including irrigation and canals, as well as clearing and developing land for private sector actors in the EEP.

Finance Minister Ken Ofori-Atta announced this in parliament when he presented the 2024 budget, and said the second phase of PFJ will focus on large-scale commercial agriculture to harness the benefits of economics of scale, promote the adoption of technology for efficiency and standardisation, as well as support price stabilisation efforts.

The initiative, he noted, indicates government's commitment to securing and developing lands to offer security of tenure for large-scale agricultural investments, in order to boost agricultural production in the country.

President Nana Addo Dankwa Akufo-Addo in August 2023 launched the PFJ 2.0 with greater emphasis on value chain approaches and focus on strengthening linkages between actors along eligible agricultural value chain.
PFJ 2.0 seeks to improve supply and utilisation of high-quality inputs; facilitate credit guarantees for aggregators to procure improved seeds, fertiliser and pesticides; and supply them on zero-interest credit terms to vegetable farmers in the immediate- and short-term.

It is also aimed at complementing the Planting for Jobs (PFJ) 2.0 strategy by increasing support to private commercial agriculture under the EEP.

As of December 2022, three enclaves in Kasunya (Greater Accra), Kumawu (Ashanti) and Banda (Oti Region) were operational. Five other enclaves are planned in 2024 to promote value addition, integration and deepening aggregation and value chain systems to serve as economic growth poles, he noted.

The three operational EEPs, he said, will lead to the production of 160,000mt of rice by end-2024 on over 110,000 acres of land. In terms of employment, at least 5,000 jobs are targetted.

"PFJ 2.0 has a special focus on poultry to address the heavy reliance on imports. Accordingly, fifteen anchor farmers and 500 out-growers in five regions (Ashanti, Greater Accra, Bono, Bono East and Eastern) will be selected to produce 65,000mt of broilers in 2024," he said.
He noted that the significant shortfall between demand and domestic production of vegetables requires urgent action, especially considering the impact of recent supply disruptions from the Sahelian region.

"The engagements with onion producers and importers prior to this 2024 budget revealed the importance of developing an 'onion index' to track production, distribution and consumption of the commodity.

"It also emerged during the engagements that in 2022 demand for onions was 314,337mt, while the local production was 178,492mt. In addition, the national demand for tomatoes in 2022 was estimated to be 1,257,348mt, while local production stood at 468,280mt. These are two prominent vegetables in the Ghanaian household," the minister further stated.