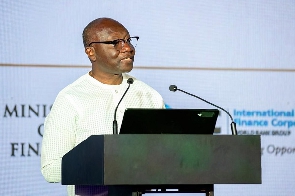 Finance Minister Ken Ofori-Atta has given his assurance that the government is committed to completing ongoing infrastructure projects across the country with the 2024 budget.
Addressing concerns about arrears owed to road contractors at the post-budget workshop in Parliament, the Finance Minister, Ken Ofori-Atta, stressed the importance of clearing these debts to ensure the continuation of projects.

According to him, the 2024 budget aims to accelerate the Programme for Economic Growth (PC-PEG) to safeguard recent macroeconomic gains, expand investments, consolidate and finish existing projects to enhance productivity and welfare.

"The 2024 budget has been prepared to ensure the accelerated implementation of the PC-PEG [Programme for Economic Growth] to safeguard the recent macroeconomic gains, expand investments to implement the new growth strategy, chart a new course, consolidate and complete ongoing projects to improve productivity and welfare, and mobilise climate finance to enable us to build resilience and promote climate-sensitive growth," he said.

Ofori-Atta also said that the government is dedicated to building a robust infrastructure network, including clearing road arrears in the budget adding that there is an allocation for arrears clearance in statutory funds.

"On the provision of growth, including the clearance of road arrears in this budget, this government wants to demonstrate our resolve to build a robust infrastructure network. On statutory funds, we have budgeted for arrears clearance," he said.
However, Minority Leader Dr. Cassiel Ato Forson expressed concerns about potential overspending in an election year.

He suggested that projects may be hastily started without dedicated funding sources to fulfil unplanned campaign promises in 2024, impacting the wage bill and labour conditions.

"Overspending is the order of the day in an election year, and to satisfy unplanned campaign promises, projects are hurriedly commenced without dedicated funding sources, and organized labour is assured of improved conditions of service without regard to its impact on the wage bill," Dr. Ato Forson stressed.

ID/MA

Watch the latest edition of BizTech below:


Click here to follow the GhanaWeb Business WhatsApp channel

Ghana's leading digital news platform, GhanaWeb, in conjunction with the Korle-Bu Teaching Hospital, is embarking on an aggressive campaign which is geared towards ensuring that parliament passes comprehensive legislation to guide organ harvesting, organ donation, and organ transplantation in the country.