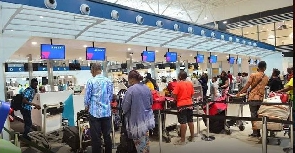 Government has lifted all restrictions imposed at the country's entry points aimed at curbing the importation and spread of the deadly Coronavirus (COVID-19) pandemic.
This, according to the Director-General of the Ghana Health Service (GHS) Dr. Patrick Kuma-Aboagye, means pre-departure testing and tests at all entry points of the country "are no longer a requirement for passengers".

The World Health Organisation (WHO) announced on May, 5. 2023 COVID-19 was no longer a public health emergency of international concern (PHEIC) due to decreasing numbers of deaths and hospitalisations with high levels of population immunity against SARS-CoV-2.

In a statement, Dr. Kuma-Aboagye said based on the global and national situation it was decided during the last national COVID-19 Task Force meeting, earlier this month, to suspend pre-departure testing and tests at all points of entry in the country for all passengers, effective Saturday, May, 20, 2023.

Sustained decline of cases

Highlighting the country's COVID-19 situation, Dr. Kuma-Aboagye said there has been a sustained decline in the number of COVID-19 cases in the country over the past five months.
"As of 15th May 2023, there were only 18 active cases – none of which was severe or critical. The only COVID-19 death in 2023 was in January," he stated.

He said the country has since January 2023 had 187,089 international passengers – and that more than 98 percent of them were "either fully vaccinated or persons less than 18 years who were exempted from testing based on our national guidelines.

"As a result, only 3,890 passengers were required to be tested – of which 24 were positive," Dr. Kuma-Aboagye said.

More than 10m fully vaccinated

As of May 10, 2023, more than 13.5 million persons had received at least one dose of the COVID-19 vaccine while 10.5 million persons were fully vaccinated, he stated.
"Additionally, 4.5 million persons have taken vaccine boosters," Dr. Kuma-Aboagye said.

COVID-19 vaccination drive will continue

Dr. Kuma_Aboagye further stressed that despite the lifting of restrictions government's vaccination drive will continue.

"Persons with symptoms of fever, cough and sore-throat will be tested for both Flu and COVID-19 at our sentinel sites across all 16 regions," he stated.

He added: "Surveillance will continue to help us identify any new COVID-19 variants of concern".