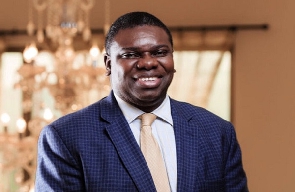 Managing Partner at Ishmael Yamson and Associates, Harry Yamson has described as bizarre the government announcement to reopen the Domestic Debt Exchange Programme (DDEP).
This comes on the back of the government announcing the reopening of the Domestic Debt Exchange Programme.

The Ministry of Finance in a statement explained that the move to reopen the programme is to grant an opportunity to holders who are unable to participate in the February 2023 exercise.

But speaking to Starr News Mr. Harry Yamson that the government must acknowledge that it is broke and address the reasons for it been broke.

According to him, the government keeps failing and it needs to cut down on its expenditure adding that the reopening of the DDEP will only push the nation into deeper debts.

"It is just a mark of the government's own desperation, the government has found itself in a situation where it is offering ever higher interest rates on Treasury Bill. We are now paying more for the treasury bill than we were paying for the old bond. It just tells you that the government does not understand that the work it has to actually need to do is to reduce expenditure not to be going back over and over again. To the bond market and treasury bill market to borrow even larger sums of money," Mr. Yamson stated.
He continued: "It has a bloated wage bill, it is over spending on prestige projects and simply failing to do the common sense thing that anybody who runs a budget ought to do. Asking people to participate in this DDEP with the excuse that they failed to do it is ridiculous. The DDEP has been extended twice or the third time."

Mr. Yamson further added that the government is utterly irresponsible with handling its finances.

Ghana's leading digital news platform, GhanaWeb, in conjunction with the Korle-Bu Teaching Hospital, is embarking on an aggressive campaign which is geared towards ensuring that parliament passes comprehensive legislation to guide organ harvesting, organ donation, and organ transplantation in the country.

Watch the latest edition of BizTech and BizHeadlines below:








Click here to start the nomination process for the 2023 GhanaWeb Excellence Awards