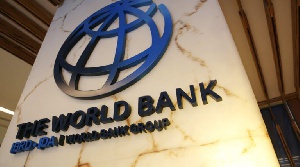 The World Bank has approved a US$30million International Development Association (IDA) credit to support the government of Ghana strengthen its financial sector stability and improve inclusiveness for users of formal financial services and the financially excluded – particularly women, rural communities and farmers.
"This project will support government's plans of undertaking reforms to deepen financial markets, promote inclusion, and enhance the supervision and regulation of specialised deposit-taking financial institutions in line with Ghana's National Financial Inclusion and Development Strategy," said Henry K.G. Kerali, World Bank Country Director for Ghana.

The Ghana Financial Sector Development Project is a key component of the World Bank Group's comprehensive portfolio supporting financial stability, financial inclusion and private sector competitiveness. It is expected to help regulators strengthen their oversight of the financial sector for a sound and stable sector. This will enable ordinary Ghanaians to develop trust in the sector and benefit from access to savings and financing for investments. It will also support the education of consumers on their rights, and equip them with skills and knowledge to make informed choices in the use of financial services.
The project will also promote financial inclusiveness by mainly supporting rural and community banks expand financial services to rural areas and the underserved segments of Ghanaians. "The increase in access to financial services is expected to create economic opportunities and contribute toward ending extreme poverty and promoting shared prosperity," said Douglas Pearce, World Bank Practice Manager for Finance & Markets.

The World Bank's International Development Association (IDA), established in 1960, helps the world's poorest countries by providing grants and low to zero-interest loans for projects and programmes that boost economic growth, reduce poverty, and improve poor people's lives. IDA is one of the largest sources of assistance for the world's 75 poorest countries – 39 of which are in Africa. Resources from IDA bring positive change to the 1.5 billion people who live in IDA countries. Since 1960, IDA has supported development work in 113 countries. Annual commitments have averaged about US$18billion over the last three years, with about 54 percent going to Africa.