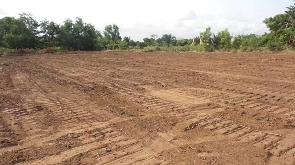 Government, through the newly established National Alternative Employment and Livelihood programme (NAELP), has reclaimed over 1000 hectares of land from illegal miners in the Western North.
Dr. Carol Louise Donkor, National Coordinator of the programme, visited some of the areas being taken care of by Dredge Masters – a subsidiary of the Jospong Group of Companies (JGC).

The company has successfully reclaimed many hectares of land from illegal miners (popularly known as Galamseyer) in the Western North.

Dr. Donkor reiterated that NAELP is aimed at alleviating the hardships of people adversely affected by the activities of illegal miners.

She also indicated that this forms part of the government's efforts to sanitise the mining space.

The programme also includes a community mining scheme which presents a module for small-scale mining in the country.

She said the project will create jobs for over two thousand youths in the affected area through the replantation of the lands.
It was against this backdrop that Dredge Masters was contracted by the government in 2021 to help reclaim galamsey lands in Asawinso A & B, Sefwi, Mepasem and Antobia – all in the Western North Region.

Speaking to the media, the Project Manager for Dredge Masters, Ing. Bernard Asumeng Adjei Saw, said the project was 90 percent complete.

According to him, the land reclamation was part of other components of the project, stating that after that his company will be moving to phase two of the project, which is replanting trees on the reclaimed lands.

Ing Asumeng Saw commended the government for its efforts to reclaim lands damaged by illegal miners.

"The government of Ghana has done a very good work. It has invested hugely to ensure that this damaged lands by galamseyers are reclaimed and put to more productive use," he expressed.

He, therefore, appealed to the chiefs in the Western North Region to support the government in ensuring that illegal miners do not return to these reclaimed lands.
While pointing out some challenges militating against the project, the Site Manager of Dredge Masters, Gilbert Atima, asked that the various communities within the reclaimed lands be involved in the tree-planting phase of the project.

For his part, a Technical Officer for NALEP, Daniel Fordjour Agyemang, indicated that his outfit had a plan in place which would see the involvement of all stakeholders to ensure the sustainability of the economic trees that will be planted on the lands.

"In no time, we will roll all this out for the community to benefit," he assured.

The Chairman of the Small-Scale Miners in Juaboso, King George, said the programme had been beneficial to miners in the region.

Some of the workers undertaking the replantation also shared their thoughts on how beneficial the project had been to them.