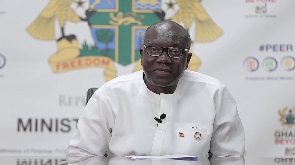 The government has called on the Board of Trustees of pension funds in its newly proposed alternative offer.
According to the finance ministry, the offer is to allow for pension funds to be included in the government's new proposed debt restructuring offer.

In a statement, the Minister of Finance, Ken Ofori-Atta stated that the new proposal is aimed at alleviating the cash constraints on the government in the coming years, while fully compensating the Pension Funds for the value of their current holdings.

The government noted that this comes after organised Labour rejected the inclusion of pension funds in the Domestic Debt Exchange programme when it was proposed on December 5, 2022.

The statement said the offer has been "crafted to facilitate the execution of the MoU, addressing the Government financial needs while maintaining the value of the pension funds."

"The proposed offer entails exchanging your current holdings of Treasury Bonds, ESLA bonds, and Daakye Bonds for a menu of the currently outstanding New Bonds (issued in February 2023 and maturing in 2027 and 2028 respectively. New Bond 2027 and New Bond 2028 featuring an average coupon of 8.4 % with a ratio of 1.15x, thus entailing an increase in patrimonial value.

"This is complemented by an additional cash payment of 10% (strip coupon). The stream of coupons to be received as part of this proposal will therefore be 21% compared to the current 18.5% of the outstanding old bonds," the ministry said.
It also said "In 2023 and 2024, both instruments will pay 5% coupon in cash and the remainder will be capitalized into the nominal amount of the two bonds in order to comply with the cash constraints and the macro-framework defined under the programme with International Monetary Fund (IMF)."

Meanwhile, these are the objectives of the offer;

Achieve the same average maturity as pension funds' current holdings of the old bonds (currently between 4 and 5 years)

Achieve a similar average coupon (currently at 18.5%) while Alleviating the cash constraints for the government over the first two years.

In that light, the minister urged that the Board of Trustees of pension funds consider the proposal, adding that the government is targeting to settle the offer by end of April 2023.

Watch the latest edition of BizTech and Biz Headlines below:






SSD/OGB