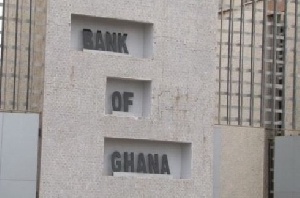 The Bank of Ghana (BoG) says government's fiscal consolidation process is on track.
Head of the Governor's Department at the Bank of Ghana (BoG), Evelyn Kwatia, who made the assertion, stated that economic activities in the country had picked up significantly with private sector credit growth also recovering.

She said this at the opening of a two-day training programme in Kumasi, which was organised by BoG in collaboration with the Private Newspaper Publishers Association of Ghana (PRIMPAG) for financial and economic journalists drawn from Ashanti and Brong-Ahafo regions.

It was aimed at enhancing the work of financial and economic reporters as part of efforts to promote effective communication of issues related to monetary policy and financial stability at all levels.

Mrs Kwatia revealed that the good trends were expected to continue this year, indicating that the decline in headline and core inflation throughout 2017 actually lead to some 550 basis points policy rate reduction.

According to her, with inflation expectations well anchored, the medium to term inflation target of 8+-2 percent was projected to be achieved this year.

Last week, the Ghana Statistical Service (GSS) revealed that inflation dropped from 11.8 percent in December 2017 to 10.3 percent in January 2018.
The Head of department said the Central Bank observed a trend decline in prices during 2017, with inflation dropping from 15.4 percent in December 2016 to the 11.8 percent in December 2017.

She asserted that the central bank's weighted inflation expectations by businesses, consumers and the financial sector also declined in December 2017, adding that the GDP growth momentum was maintained throughout 2017.

Mrs. Kwatia said the provisional GDP estimates from the GSS indicated that the economy grew by 9.3 percent in the third quarter, up from 9.0 percent and 6.6 percent in the second and first quarters of 2017 respectively.

He said that interbank rates also declined to 19.3 percent in 2017 as against 25.4 percent in December 2016.

Touching on the interest rate equivalent of the benchmark treasury securities, Mrs Kwatia indicated that 91-day treasury bill rate dropped to 13.3 percent in December 2017 from 16.8 percent in December 2016, while the 182-day rate also declined to 13.8 percent from 18.5 percent in December 2016, and the 1-year note again declined markedly to 15 percent from 21.5 percent in December 2016.

"This is because of the need for the disclosure of financial and economic information to be done in a manner that does not cause disruption to the financial markets, and building capacity will enhance the ability of journalists to write informed economic analyses."