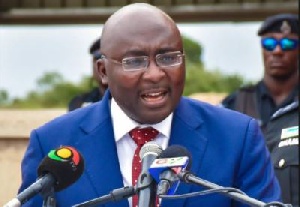 The Vice President Dr Mahamudu Bawumia has disclosed that the government has begun discussions with the gold mining companies over the export of gold.
According to the second gentleman, is expected to help ensure that, the country derives the maximum revenue from the country's gold which is exported.

He also said, Precious Minerals Marketing Company (PMMC), which is mandated by law to assay all minerals mined in Ghana, is also gearing up to acquire the necessary equipment and resources to undertake its duty.

Dr Mahamudu Bawumia made the disclosure during his keynote address at the ongoing Regional Conference on "Fiscal Management of Mining and Petroleum (Resources) in West Africa" in Accra.

The Conference is being hosted by the Africa and Fiscal Affairs Departments of the International Monetary Fund (IMF), with participants drawn from Ghana, Nigeria, Senegal, Sierra Leone, Niger, Mali, and Mauritania, as well as senior officials of the IMF.

Ghana's mining laws according to Dr Bawumia stipulate that the PMMC assays the gold and other minerals mined in the country but the major mining firms have for years been assaying gold mined from their mines by themselves before export.
While the companies have not been accused of any wrongdoing, he believes the institution of state-mandated to undertake this critical task must be appropriately resourced to discharge its duty.

"It is simply not acceptable that for a very long time an institution of state with the powers to help in properly accounting for our mineral resources was not enabled nor allowed to perform its job. This has to change. I know of a bauxite mining company that over the last five years has paid no dividends to the government because it claims it has made no profits yet it continues to mine vigorously. This cannot be right.

Thankfully we have now begun conversations about the process of making sure that every single bar of gold leaving our shores is properly weighed, tested, valued, and accounted for. While the process may not be as robust as we want, it is a positive step in the right direction and we are impressed with the collaboration between the Ghana Chamber of Mines and the Precious Minerals Marketing Company in making sure we expedite the full spectrum of accounting for our gold resources," Dr. Bawumia told the conference.

He, therefore, urged the Conference attendees to deliberate on a number of areas militating against resource-rich countries, including revenue leakages by means of improper accounting for resources, locking out of resource-rich countries from the high-value ends of value chains, limited local content and the lack of full participation of local businesses in resource industries.

The Vice President said it was unacceptable in Ghana, with growing revelations of illicit financial flows through 'external accounts' and mispricing of trade transactions, indicating that they go a long way to deprive ordinary citizen of the full benefits of their natural resources.