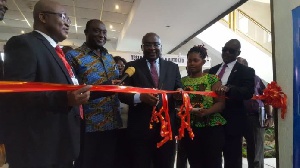 Importers and the business community will no longer have to worry about the impact of the cedi's never-ending fluctuation on their cost of doing business at the ports: government has disclosed plans to fix exchange rate at ports for a six-month period.
According to Vice-President Dr. Mahamudu Bawumia, the move – which will ensure that the exchange rate at which goods are cleared at the ports can only be reviewed after every six months – will promote predictability, price stability and proper planning for businesses.

"We have looked at it and think it is something we have to address; it does not make sense if you look at it in terms of ensuring predictability. Business works well in a predictable environment, so our proposal is that instead of doing these Monday changes in exchange rates at the ports, we should look at it every six months.

"We are discussing this, and we should implement it in the next couple of weeks or so," he said without giving specific timelines.

Dr. Bawumia was speaking at the opening of a three-day Ghana Industrial Summit and Exhibition 2018 in Accra organised by the Association of Ghana Industries (AGI), and said the decision has become necessary owing to a review of numerous complaints received by government's Economic Management team.

"We have been reviewing whatever is going on at the ports on a regular basis to see where the issues are, what issues people are complaining about, and what we can do to make things better. One of the areas that we have received complaints from the Economic Management Team level about is the regularity of changes in the exchange rate every Monday at the port; and that, for a lot of importers, is a bit destabilising because you may import your goods and the exchange rate is 'A' and by the time you realise it's 'A plus something' – and then your calculation of the duty you should have paid suddenly changes; that can be destabilising," he bemoaned.
AGI welcomes proposal

Reacting to the announcement, AGI's President, Dr. Yaw Adu-Gyami, described it as "very laudable", adding that it will not only help businesses to plan but represents a huge incentive for investors to want to come and do business in the country.

Asked by the B&FT what the fix six-month exchange rate at the ports will mean for the association and entire business environment, he said: "What it means is that now if you are importing goods and the dollar rate is GH¢5, you already know that for the next six months when I bring 100,000 goods in, I am supposed to pay this amount as duty. So, it is really going to be helpful."

Unlike the current situation, wherein every week or every Monday the price of a cedi to a dollar changes at the port, which has always been a point of dissent for businesses. The AGI president added that the new regime, if implemented along with other measures, will help local industries which are dependent on imported raw materials to be competitive.

"It will help importers to plan ahead in terms of duty. It is not only going to be good for importers, but I think it is also going to be good for the entire economy, including the consumer," Dr. Adu-Gyamfi further noted.
Ghana Industrial Summit and Exhibition 2018

The three-day event, which is on the theme 'International partnerships for value-added industrial and local content development', is expected to bring together captains of industry, policymakers, industrialists among others, from Ghana and beyond to dialogue and fine-tune ways of increasing the manufacturing sector's contribution to Ghana's GDP.

The event is open from September 18 to 20, 2018, and is also meant to highlight the importance of international partnerships to Ghana's industrial aspirations and the need for government and the private sector to promote value-addition.

According to the AGI, this year's event is to also exhibit Ghana's position as the preferred destination for companies seeking to take advantage of the West African market.