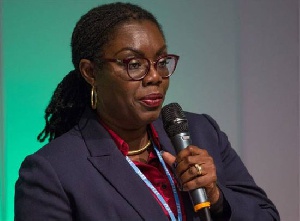 Government is establishing various platforms to encourage people to report incidents of cybercrime and cyber-security breaches.
"These channels will include online portals, hotlines, SMS lines, and dedicated app [mobile applications] that will be dedicated solely for incident reporting", Communication Minister Ursula Owusu-Ekuful explained.

She said these channels will be launched in the coming weeks by the Ministry in collaboration with the Cyber Security Centre, Ghana Police, telecom service providers and the Internet Watch Foundation (IWF).

The initiative is geared towards ensuring the proper handling of crimes perpetuated online and forms part of the implementation of Child Online Protection (COP).

Speaking at the climax of the National Girls-In-ICT Day celebration in Takoradi, Mrs. Owusu-Ekuful said government was introducing a cybersecurity bill with provisions on Child Online Protection.

"In this new bill, offenders of revenge pornography (i.e. the act of distributing sexually explicit images or videos without the consent of the parties involved) and sextortion shall be prosecuted," she stated.

The National Cyber Security Centre, she said was currently reviewing the framework on COP, which will include a comprehensive implementation roadmap to protect children online.
Meanwhile, Mrs. Owusu-Ekuful has urged parents and teachers to show interest in how children use technology and put measures in place to safeguard them from cybercrime.

National Girls in ICT Day

The National Girls in ICT celebration was on the theme, "expanding horizon and changing attitudes".

It creates a global arena that inspires girls and young women to consider careers in the growing field of information and communication technologies (ICTs).

The two-day celebration saw 560 selected girls from six districts trained in ICT and being mentored by female achievers in the industry.

The 60 best students received prizes ranging from laptops, internet modems with free one-year data subscription for the best ten and cash as well as plaques.