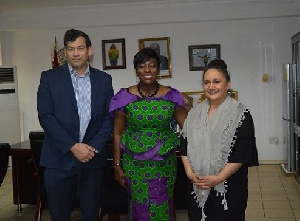 Government has been urged to dedicate a percentage of the Gross Domestic Product (GDP) to the development of arts and culture industry whiles the President, Nana Addo Dankwa Akufo-Addo, has also been encouraged to serve as a patron for the arts and culture industry, as well as advocate its strategic investment potential.
In an interview with the B&FT, Lee-Ann Tjunypa Buckskin, Deputy Chair of the Australian Council Board (ACB), Australia's government arts funding and advisory body, said marketing is important to get Ghana's unique arts and culture industry a wide coverage accessible to all and as such, government must dedicate a percentage of GDP to make funds available to that effect.

"Ghana first of all needs an arts and culture policy that will provide the framework and guideline for artist and industry players to work with. Also, the president of the nation must avail himself as the patron and an advocate of art for the nation.

When ACB was established some years ago, the government supported the initiative and dedicated 7percent of GDP to help in running its operations before the board also started generating funds from co-investment with private sector and philanthropists support among others, but the most significant thing is government's dedication and I will urge Ghana government to do same," she said.

She believes that if the president of the republic devotes himself as a patron and an advocate to the art industry, the possibility of driving interest and drawing investors for the development of the sector will be high.

She explained that Ghana has a young unique industry and vibrant artists as well as dynamic cultural regalia which is very unique and only needs strategic initiative viable for investment.

The establishment of a regular working board, national indigenous arts award, education for arts and research into economic know-how are among other proposed initiatives she gave could help promote the industry.
The global art industry is estimated at US$65billion and putting in place stringent measures, which industry experts have proposed, will enable a robust industry capable of tapping into a fair share of this industry.

Ms. Buckskin, is currently on a working visit to Ghana, to mark the celebration of National Aboriginal and Islanders Day Observance Committee (NAIDOC) week 2018 under the theme "Because of Her, We Can" an event to earmark to recognise the essential role Aboriginal and Torres Strait Islander women play as significant role models in the community.

Her areas of expertise include: indigenous cultural preservation and identity; mentoring youth through the arts; as well as using arts as a medium for activism and developing national arts management policy.

The Australian Council Board (ACB), was established about 50 years ago, with the mandate to provide policy guideline for the arts industry,provide education for arts,make arts an everyday living,provide strategic initiative in investing and to train individual arts and build the capacity of performing art companies.

Ms. Buckskin, also had a meeting with the Minister of Art and Tourism, Catherine Afeku to share ideas and foster relationship that will lead to further partnership and collaborations in the arts industry.