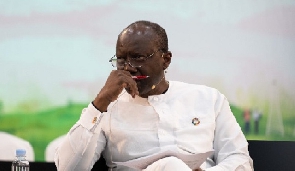 A former 3rd National Vice Chairman of the New Patriotic Party (NPP), Michael Omari Wadie, has called on the President, Nana Addo Dankwa Akufo Addo, the finance minister, Mr Ken Ofori Atta and the Economic Management Team to open a window to allow those who declined to sign on the Domestic Debt Exchange Programme.
According to him, those who signed on it are enjoying more privileges than those who did not sign, hence the appeal.

The Minister of Finance announced in 2021 that the government would implement a voluntary DDEP as part of measures to reduce the debt burden and give the government some breathing room to deal with the fiscal challenges facing the country.

According to him, all bonds have been put into four categories as part of a restructuring programme that had been necessitated by recent economic headwinds.

He said individual bondholders and investors in Treasury Bills were exempt from the exchange programme.

"Under the programme, domestic bondholders will be asked to exchange their instruments for new ones," he said.
The Minister also noted that existing domestic bonds as of December 1, 2022 will be exchanged for a set of four new bonds maturing in 2027, 2029, 2032 and 2037.

"The annual coupon on all of these new bonds will be set at zero percent in 2023, five percent in 2024, and 10 percent from 2025 until maturity. "Coupon payments will be semi-annual," he stated.

Since its introduction, some groups, organizations, and entities, including the Christian Council, labour unions, and more recently, pensioners, have kicked against the idea.

Some of the bond holders, especially pensioners, despite the Government's plea, also withdrew from the programme.

Speaking on Atinka TV's current Affairs show, "The Agenda" with Nana Yaw Fianko, Michael Omari Wadie said some people did not understand the Programme at the initial stages and so they did not agree or sign on it.
For others, he said the opposition National Democratic Congress (NDC) convinced them not to sign on it.

According to him, those who signed onto the Programme enjoy loans when they present their bonds to any bank without stress.

Meanwhile, he observed that those who did not sign are going through some form of hardship because they do not have access to these loans and others.

"What I will do is to plead with the President, the Vice President, the Economic Management Team and especially, the Finance Minister. I am pleading in the interests of some Ghanaians who did not understand the Debt Restructuring Programme. Please open a small window for those who would like to come and sign for it," he said.

He added, "I earnestly request that the Finance Ministry or those in charge of these negotiations open a window of at least one week. If you know someone who did not sign, ask him how it is going, and also ask those who did not sign how it is going for them."