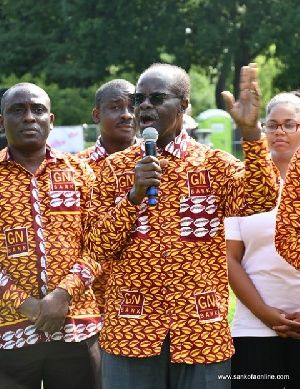 Mon, 30 Jul 2018 Source: Eddie Ameh
After finally changing the narrative by acquiring Illinois Federal Savings Services (ISF) Bank in Chicago, Group Nduom will partner the Ghana Council of Chicago to build a Ghana Community House.
The project when completed, will be the first ever by any Ghanaian or Ghanaian group in the United States.

Addressing audience at the 2018 Ghanafest in Chicago, President of Group Nduom Paa Kwesi Nduom said, as a Ghanaian business, his company is poised to leave its unique mark on the global scene.

"We're not only trying to build a business but also a community which will be better for us all," he added.

On her part, Lt. Mrs Barwuah, wife of Ghana's ambassador to the US, Barfuor Adjei Barwuah commended Group Nduom for its gesture and expressed pride in the initiative.

"Neighborhoods have been named after certain countries here, a Ghana Community House will certainly provide us another opportunity to show the world the proverbial Ghanaian hospitality," she said.
Nduom acquired ISF, which was established in 1934 by African-Americans who fought segregation in the US, in 2016 and finally changed the name to GN Bank. With its acquisition, GN Bank remains one of the very few black owned banks in the US.

The former presidential aspirant is hopeful of expanding the bank's branches and build a brand comparable to JP Morgan and Citi Bank.

This year's Ghanafest was sponsored by Group Nduom.


Source: Eddie Ameh