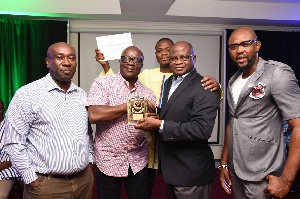 Sun, 16 Oct 2016 Source: Maxwell Atuanor Dwirah
Guinness Ghana Breweries Limited (GGBL) has held its annual Key Distributor (KD) conference at the Volta Serene Hotel, Ho, to celebrate and reward deserving distributors as well as strategize for the current financial year.
The theme for this year's conference, 'Taking over territories' progressed from the previous theme of "Winning through Solid Partnership" where GGBL and Key Distributors deliberated on a shared vision that will improve consumer brands experience.

Luck Ochieng, Sales Director of GGBL, said 'Our key distributors are key partners of our business and every year we meet to evaluate our performance and partnership to ensure we deliver the best product and experience to our consumers. We also use this opportunity to celebrate our best performing distributors for the past year which is true to our purpose of celebrating life everyday, everywhere. I am encouraged by the passion and commitment we share with our distributors to maintain and extend our leadership in Ghana's beverage industry'.

Boakye Yiadom Ricky Limited based in Kumasi, was adjudged the best Key Distributor for 2016 for delivering exceptional performance.

He was presented with a 709 Tata Truck whiles Lesken Enterprise located in Bolgatanga was adjudged the 2nd best key distributor and took home a 407 Tata Truck as well.
Double Cee Enterprise from Koforidua placed 3rd and also took home GH¢15,000 worth of office furniture.

'Aspet A' Company Limited and Magfrimp Enterprise were also awarded with 407 Tata Trucks for being the best amongst their league of distributors. Primus Services Limited, Planiter Enterprise, and Kwaapons were also recognised for their performance and contribution to the growth of the business.

Commenting on the awards Mr. Kofi Boakye Yiadom, CEO of Boakye Yiadom Ricky Limited, said "I am delighted to be recognised and awarded with a brand new truck to improve my operations. I will continue to deliver on all KPIs to win the overall best KD next year. I applaud GGBL for the investment they make in the business to excite consumers with quality new products all the time."
Source: Maxwell Atuanor Dwirah