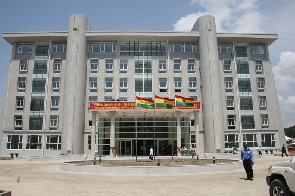 The Acting Director at the Ministry of Foreign Affairs, Ambassador Ramses Joseph Cleland, has defended the ministry's decision to spend GH¢7,967,886.57 on a project that was initially estimated to cost GH¢1,435,728.99.
According to him, the project was initially costing the ministry GH¢1, 435,728.99 as of March 2007 when the contract was awarded but due to the ill health of the contractor, the project came to a grind.

Appearing before the Public Accounts Committee (PAC) on Friday, January 20, 2023, the acting Chief Director of the Ministry, explained that the project was revisited in March 2019 and upon the request of the consultant, the cost had been re-valued from GH¢1,435,728.99 to GH¢7,967,886.57.

The committee questioned whether the provisions of the contract permitted the failure of the contractor to complete the project on time to incur a cost to the state. However, the ministry in response said they were unable to speak to that because the estate officer was not present at the committee sitting.

The committee then instructed the Ministry to provide them with the contract details and all other required documents for further probe.
The contract for the rehabilitation of Adu Lodge Guest House was awarded to International Development Resources on March 15, 2007.

The Auditor General's report noted that, as of June 2019, a total of GH¢7,741,501.60 (representing 90% of the contract sum) had already been paid.

According to the Ministry, the project has finally been completed and handed over to the Ministry, after 13 years of delay.

AM/KPE