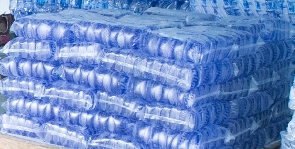 Ghana's hyperinflation has become an ever-increasing problem as the days go by. Basic necessities have been hugely affected by this problem so much so that, the average Ghanaian has had to go through severe budget constraints just to make it through a day.
Some people have even had to adjust their consumption as well. Being able to afford a three-square meal in Ghana today is a source of worry for most people.

One item whose price increase came as a source of shock to many is sachet and bottled water also known as pure water.

On March 8, 2021, the National Association of Sachet and Bottled Water Producers announced an increment in the price of a bag of sachet water to GH¢2.50 from GH¢2.00.

The association explained that the reason for the 50 pesewas increment was due to the high cost of raw materials used in packaging purified water.

Fast forward to 2022, a year later, the association announced that effective September 19, 2022, the prices of iced sachet water and iced bottled water are expected to increase to GH¢3.
They attributed the price increment to the "rising cost of inputs such as fuel and packaging materials which are mainly imported and increases in electricity and water from September 1, 2022."

A release by the National executive committee of the National Association of Sachet and Packaged Water Producers (NASPAWAP) on September 14, 2022, stated that there may be "slight variations across regions due to haulage to remote and distant areas."

"At our previous review in March 2022, the dollar was in the region of GH¢8.5. Currently, it is inching up to GH¢10. Fuel prices have significantly gone up since our last review. It was GH¢9 and now it is GH¢14.5, which is a 61 % change since. March 23, 2022," the Association noted.

"Iced sachet water is recommended at GH¢50. A bag of sachet water, 500ml by 30, will now sell at GH¢7 from the retail trucks. Mini shops will now retail a bag of sachet at GH¢9 per bag," a statement by the association detailed.

Meanwhile, Ghana's inflation has started reducing, even though it is still very high. Fuel prices have also been on the increase due to the constant depreciation of the cedi. These factors contribute to the rise in the price of pure water.
Watch the latest edition of BizTech and Biz Headlines below:







SSD/FNOQ