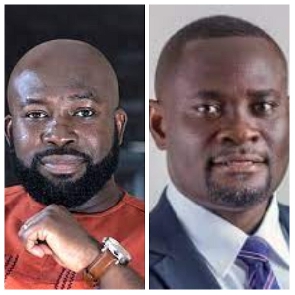 A deputy minister of finance, John Kumah, has expressed disappointment over the trajectory of discussions surrounding the debt exchange programme.
He made the comment in relation to some earlier utterances by the convener of the individual bondholders' forum that the government was being dishonest in its dealings.

John Kumah who seemed not impressed with the statements said the current crisis the country faces is not about emotions and politics.

"It becomes very difficult to engage in public discussions on emotional topics like the debt exchange programme. But I am particularly disappointed in my brother Senyo Hosi because we go way back and I didn't expect this contribution from him. For him to attack me and call me dishonest and miseducating the public.

"It is very unfortunate for him to come being emotional and talking politics rather than the issues we're discussing. I am a politician and I can go very political but that is not why we are here, we are trying to encourage people to understand what is going on and what is best for everybody," he is quoted by myjoyonline.

Senyo Hosi has bemoaned the government's seeming "dishonest posture" since the introduction of the debt exchange programme and the subsequent inclusion of individual bondholders in the programme.
However, after several engagements, the government has amended some parts of the programme even though individual bondholders have not been exempted.

Based on its engagements, the ministry is offering these new conditions as part of the new Exchange Memorandum:

a. An affirmation that all individual bondholders are free not to participate;

b. However, upon a successful DDEP there will be very few of the 'old bonds' in circulation, and likely limit its tradability;

c. In this regard, the Government is pleased to make available the following alternative offer to encourage all individual bondholders to participate in the Exchange:
i. All individual bondholders who are below the age of 59 years will be offered instruments with a maximum maturity of 5 years, instead of 12 years, and a 10% coupon rate;

ii. All retirees (including those retiring in 2023) will be offered instruments with a maximum maturity of 5 years, instead of 12 years, and a 15% coupon rate.

SSD/FNOQ