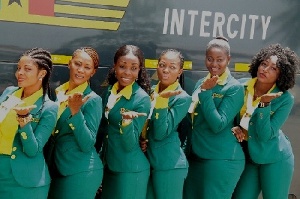 Managing Director for the State Transport Corporation (STC), Nana has commended the immediate past management of the state transport for their efforts and has said, the current management will build that success.
In a Facebook post, Nana Akomea said STC has recruited some 100 young ladies and currently training them as cabin crew. Arrangements he said have been completed for the fleet of STC to be increased by December.

He wrote ''the inconsistent WiFi service on the coaches is being revamped. The difficult Accra- Kumasi route due to the presence of strong rivals is being tackled head on. With the new loading point established at Nkrumah circle last week,

STC now runs ten fully loaded services every day from Nkrumah Circle to Kumasi. Workers/Staff welfare is the top priority. STC starting September will be current with workers SSNIT payments and conclude arrangements to retire the 2 years arrears owed SSNIT.

Similar arrangements have been put in place for staff Provident payments. Salary reviews are back on the table. The company is ready to start repayments this month to the government for the loan for the 50 Scania buses .''

He also called on the public to desist from politicizing the management of STC. I will plead that the transformation of this venerable state institution is not turned into an NDC-NPP rivalry.
Below is the full Facebook

I am encouraged by the interest in STC affairs expressed by Ghanaians on Facebook and elsewhere. I will plead that the transformation of this venerable state institution is not turned into an NDC-NPP rivalry. Hon Nuamah Donkor and his team played a great role in bringing Stc back.

They oversaw the acquisition of 50 states of the art buses/coaches in October last year. Indeed one newly revamped station is proposed to be named for Nuamah Donkor. The new management is building on this to totally transform the operations of STC and return it to profitability.

Firm arrangements have been concluded to triple STC's fleet strength by December 2017. The E payments platform should be up and ready by end September with the support of 2 banks Stanbic and uni bank.

The "cabin crew" service which will transform passenger service in Ghana is set to roll. Recruitment of a 100 young ladies were concluded last week. Their training is ongoing. Trial runs will start next week Wednesday. The service will be fully launched the first week of September 2017. Drivers are being retrained and rebranded.
The inconsistent WiFi service on the coaches is being revamped. The difficult Accra- Kumasi route due to the presence of strong rivals is being tackled head on. With the new loading point established at Nkrumah circle last week, STC now runs ten fully loaded services every day from Nkrumah Circle to Kumasi.

Workers/Staff welfare is the top priority. STC starting September will be current with workers SSNIT payments and conclude arrangements to retire the 2 years arrears owed SSNIT.

Similar arrangements have been put in place for staff Provident payments. Salary reviews are back on the table. The company is ready to start repayments this month to the government for the loan for the 50 Scania buses.

Problems remain. Our terminals are in deplorable states. Funds have been set aside to restore basic decency and comfort for passengers in our terminals. Long term, we are engaged in negotiations with private investors for complete Revamping of our terminal into modern edifices. The company is still saddled with huge debts spanning the last 10 years. Punctuality on scheduled services still slips.

Some staff is still in the old mentality that they are doing the passenger a favour. But with honest and prudent management, enhanced passenger care and service, and goodwill of all Ghanaians, this venerable state company will become profitable and regain the status as the preferred intercity transport service in this country. Top of Form