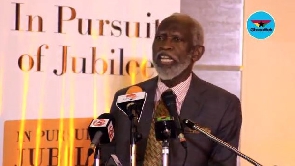 A former Rector of the Ghana Institute of Management Public Administration (GIMPA), Professor Stephen Adei has justified his decision not to criticize the current administration till when he deems it fit.
According to him, he was not critical of the National Democratic Congress (NDC) administration under Mahama until after two years because he knows governance is not easy as many would think.

Hitting back at critics who have tongue-lashed him for remaining mute about happenings in the current New Patriotic Party (NPP) administration, the Ashesi University Professor vowed to keep his cards to his chest until that time when he feels it is right to do the needful.

Many have accused him of being soft on the current administration when things are not going well as compared to the former administration where he was literally heard accusing them of doing one thing or the other.

But in response at the TV3's recently held governance lecture dubbed the Accra Dialogue, Prof. Adei said "for two years under Mahama I never made a statement because I know it is difficult to govern'
The governance expert maintained that he was only heard being hard on Mahama and his administration after two years because he let Ghana down on the quality of leadership, corruption was on the rise and some appointments were not in the interest of the country.

"That at a certain time, Mahama led Ghana down on the quality of leadership. You may agree or disagree but that is my professional opinion, I think corruption which had been with us was on the ascendency and thirdly, I thought some appointments were wrong and not in the interest of Ghana but I never open my mouth for two years. Let Akufo-Addo do the same and some self-citizen vigilante will talk. But I will never talk in the first year in a government when the government is trying to find its feet", he said.

Professor Adei maintained he still stands by his criticisms of the Mahama administration and the issues raised.