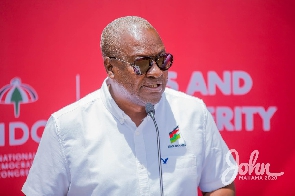 Flagbearer of the National Democratic Congress, John Dramani Mahama, has stated that in the event of his election as president, he will restore the licenses of banks that he believes were wrongly shut down.
He made the promise while delivering his formal acceptance speech on May 15, 2023.

John Mahama was declared the flagbearer of the National Democratic Congress on May 13, 2023.

The former president noted his government will create a tier banking system that will boost Ghana's financial sector.

"We shall promote robust, local participation in our banking and financial, telecommunication, tourism, mining, and agric and manufacturing sectors to grow our economy and create sustainable employment for our youths.

"We will restore indigenous Ghanaian investments in the finance and banking sector and we will create a tier banking system that will serve various segments of the market," he said in his address at the University of Development Studies in Tamale.

John Mahama also noted that he will ensure that those who lost their jobs in the 2019 banking sector clean-up exercise are re-employed.
"We will give the opportunity to experience banking hands who were laid off needlessly to secure their careers once more and move away from the menial jobs that they were compelled to take.

"As far as practicable the banking licenses that were unjustly canceled by this government will be restored," he said.

Watch the latest edition of BizTech and Biz Headlines below:





SSD/DA