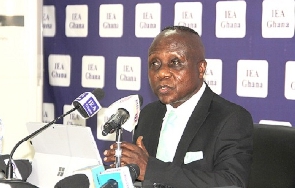 The Institute of Economic Affairs (IEA) has proposed measures which could help government save over GH¢45billion annually, and lessen the impending Domestic Debt Exchange Programme's (DDEP) impact on the economy.
Anchored on fiscal measures – expenditure cuts and ambitious revenue mobilisation as well as the need for burden sharing – its Executive Director Dr. John Kwakye explained that while savings of GH¢24billion per annum could be realised from a 10 percent expenditure cut across the medium-term budget – from 2023 to 2026 – which is estimated to range between GH¢191billion and GH¢285billion, a similar value could be saved with targetted spending in specific areas.

This will help government raise GH¢45billion every year between now and 2026, which will ensure the economy – particularly the financial sector – is spared from crippling shocks while providing the Treasury space to re-profile the nation's debt.

"We believe the DDEP cost should be spread across the economy to the widest extent possible, in the spirit of burden-sharing," he said at a media engagement in Accra.

While describing it as a "sensitive subject", the Institute suggested that significant reductions in public sector compensations – projected at GH¢45billion in 2023 and rising to GH¢70.4billion by 2026 – could also provide much-needed fiscal space going forward.

"There is considerable room to reduce this item. However, it is not just about cutting pay – which may not even be enough in living or economic terms. There is need for a complete review of the system for public sector salaries, allowances, retirement benefits, etc. Doing so will foster fiscal and debt sustainability," Dr. Kwakye noted.
In addition, the IEA recommended renegotiating Power Purchase Agreements (PPAs) with Independent Power Producers – targetting about half of the annual payments in the medium-term, which it says should save some GH¢12billion annually.

"Infrastructure is an essential item in the budget, given its large deficit in the country. However, in the current situation where government is struggling to pay its debt, it cannot at the same time afford the expense to deliver needed infrastructure," the Institute noted; adding that infrastructure spending, if reduced by a third in the medium-term, could save as much as GH¢4.9billion yearly.

Other areas of focus to scale back expenditure include goods and services, energy sector debt transfers, the Office of Government Machinery and some flagship programmes.

Revenue mobilisation

While expenditure is being curtailed, revenue must also be enhanced as an added fiscal measure, the IEA noted.
Chief among them is a sweeping hike in the base tax rates for corporate entities, particularly those operating in the extractive, telecommunication and financial sectors; a move the IEA said would raise an additional GH¢15billion annually.

Reacting to concerns that such a move would overburden businesses already operating in a high inflation environment and possibly lead to the exodus of some well-established players, Dr. Kwakye insisted that current rates are among the lowest among the country's competitors.

Other measures tabled include the introduction of an e-commerce levy to complement the electronic-levy, as well as enforcing laws on property taxes and tax exemptions.

A visiting Fellow at the IEA, Prof. Alexander Bilson Darku, emphasised that these proposals are meant to accompany the DDEP and not necessarily replace it.

He however noted that if the measures were implemented, they would allow for more favourable terms under the Programme: including shorter maturity periods for the new bonds and a new coupon regime of 8 to 12 percent, versus the current term which is capped at 10.65 percent.
"With the huge gains expected from the suggested fiscal measures, if they are implemented in full or even with partial implementation, it may render the gains projected under the DDEP not fully needed and a new version with less 'haircut' to bondholders could be introduced," he opined.

The IEA's recommendations are likely to find their way into discussions by the technical committee set up by Ministry of Finance, together with representatives from the Individual Bondholders Forum (IBF) to explore viable alternatives to the Programme's existing terms.

The committee – formed after a meeting between the Finance Minister Ken Ofori Atta and leadership of the IBF on Wednesday, January 18, 2023 – is to, among other things, seek fiscal space in the 2023 budget to allow for exempting the most vulnerable classes of investors.