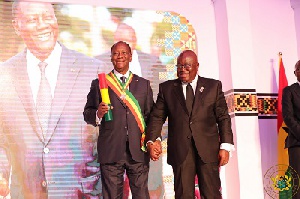 The International Monetary Fund Board has approved a US$3.5bn loan agreement with Ivory Coast as part of economic support measures to help the cocoa grower tackle challenges.
The BBC reports that Ghana's western neighbour will receive nearly $500 million immediately.

Further funds will be dependent on Ivory Coast making structural changes to its economy, the BBC report added.

According to the IMF, the amount is to help Ivory Coast tackle three shocks by way of the aftershocks of COVID pandemic, global monetary tightening and the Russia-Ukraine war.

Ghana only recently received approval for a US$3 billion bailout out if which US$600 million has hit government's account.

Government is set to undertake a series of agreed upon programmes in the coming months to be able to access the remainder of the funds.
In the case of Ghana, the Russia-UKraine war and the COVID pandemic have serially been blamed for the economic downturn whiles the opposition insists it stems from economic mismanagement.

Watch the latest edition of BizTech and Biz Headlines below:





SARA