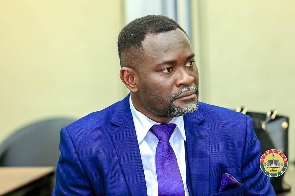 A deputy finance minister, John Kumah, has stated that Ghana has now fulfilled all the conditions necessary to secure the $3 billion IMF bailout after the country's bilateral creditors gave their financing assurances.
He said, as reported by asaasenews.com, "It means that all preconditions have now been met."

According to Kumah, "The Paris Club represents the majority of Ghana's external creditors, and they have agreed to form the creditor committee at the request of Ghana.

"If you can remember, the Finance Minister, Ken Ofori Atta, went to China and requested the Chinese government to co-chair the creditor's committee, and on that request, China has agreed to co-chair with France on the creditor's committee, so this is a clear signal of Ghana's readiness to now go to the IMF board," he added.

The deputy finance minister added that as the IMF director has acknowledged the country's progress, government is looking forward to hearing from the Fund soon.

He said, "We have the assurance from the IMF, especially the managing director, who has already stated that she will move with speed as soon as the financial assurances are granted, and we look forward to hearing from them any moment from now."
John Kumah explained that "it is the global approval that has been given," while adding that he "strongly believes that based on our negotiations and our ability to convince China, and within the framework that has been approved, Ghana should have major benefits and some reliefs on our debt so that we achieve financial sustainability."

A creditor committee consisting of Ghana's creditors was established on Friday, May 12, 2023.

The committee is to be co-chaired by China and France.

China is one of Ghana's largest creditors. Currently, Ghana is seeking for debt relief or debt cancellation from its creditors as one of the requirements for obtaining an IMF deal.

A joint statement of the Creditor Committee for Ghana under the Common Framework for Debt Treatments beyond the DSSI explained that the creditor committee examined the macroeconomic and financial situation of Ghana, including its long-term debt sustainability.
Watch the latest edition of BizTech and Biz Headlines below:





SSD/DA